Students learn trials of the real world
Michelle Smith learned a valuable lesson on Friday.
The Eudora West Elementary School fifth grader learned people in power sometimes have to make unpopular decisions.
Smith was one of more than 100 students who spent Friday at Exchange City in Kansas City, Mo, learning about life outside the classroom.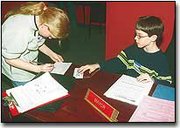 Exchange City is a miniature city of sorts, housed on the campus of Penn Valley Community College. Among its several businesses are a sign shop, a snack shop, a bank and a sports shop. It also has a post office and a city hall.
Students were given jobs for the day, earned paychecks and tried to run their businesses as efficiently as possible.
Prior to arriving at Exchange City, Smith was elected by her classmates to be the city judge. It was her job to issue fines for citations handed out by the city's police department.
The police department handed out tickets throughout the day for violations such as walking on the grass, failing to salute the flag and failing to walk backward in front of city hall.
Those who received tickets had to appear before Judge Smith.
"They weren't too happy with me," she said. "I wasn't the most popular person there."
Brittne Carey, who worked in the jewelry shop, was fined for two offenses.
"I didn't walk backward and I forgot to salute the flag," she said. "I had to pay $1.50."
That may seem like a nominal fee, but the students soon learned that every penny counted.
"We had to keep track of everything we spent and we had to make our checkbooks balance," Carey said. "It wasn't too hard, but you were in big trouble if it didn't balance."
In addition to balancing their personal checkbooks, business owners had to make sure their businesses made a profit.
Lauren Colman, who worked in the snack shop, said that was no easy task.
"I had to make a lot of popcorn," she said. "I learned that making popcorn is harder than it looks and it's hot."
Carey felt a little better about her job in the jewelry store.
"I think I would like to make jewelry when I grow up. It was fun," she said.
Colman said her experience in the snack shop also gave her some insight into what she might want to do in the future.
"I know I don't want to work at a snack shop," she said. "Maybe I'll be a teacher."