Disappointing end for Cardinals
The season ends for the Eudora boys as they come up short in second round of sub-state
It just wasn't in the cards for the Eudora boys basketball team to head to the state tournament this year.
The Cardinals were stopped short of advancing to the sub-state championship game in a semifinal loss to Atchison Thursday night at Topeka Hayden High School.
The Redmen beat the Cardinals 59-48.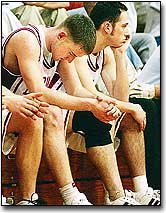 Eudora seemed to have lost the rhythm that carried the team through the end of the regular season and to a first-round sub-state win.
"A lot of us on the team thought that we didn't play to our potential against Atchison," senior Matt Fisher said. "I don't know why, but we just weren't clicking."
With Eudora leading 10-8 after just one quarter, it was anybody's game. Atchison's Soloman Brittain put in an easy lay-up five seconds into the quarter.
The Cardinals jumped out in the first minute of the quarter with baskets by seniors John Powers and Matt Fisher, respectively, giving them a 14-10 edge over the Redmen.
However, Stephan Gray knocked down his first of three 3-pointers shortly after for Atchison to pull back within one point, 14-13.
Gray tied the game up a few baskets later at 18 with another 3-pointer.
Each team scored another bucket and Gray put up another 3-pointer to give Atchison a 23-20 lead with 2:44 left in the half. Atchison strategically ran down the clock for the last minute, but floundered a 3-point attempt.
By the end of the third quarter, Eudora trailed by five.
The tide didn't completely turn for the Cardinals until a stretch early in the fourth quarter.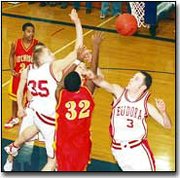 The Redmen managed an 8-4 run in the first three minutes, extending their lead to nine points, 47-38. Despite many attempts, the Cardinals couldn't regain control of the game.
It didn't help that Eudora committed 20 turnovers to Atchison's 14.
"It was a pretty even game, back and forth," Coach Chad Eshbaugh said. "We took some good shots, but we just made fewer than they did. Atchison shot the ball very well."
Both teams shot about 27 percent from the field.
The difference being that Eudora hit 12-of-23 with just two 3-pointers by Zac Tyler and Fisher while the Redmen hit 23-of-49 including seven 3-pointers.
"We never had total control of the game," Eshbaugh said.
Powers agreed.
"We couldn't make a basket when we needed to and we couldn't shut down their offense, especially from the 3-point line," he said.
The Cardinals spread the scoring evenly for the game. Fisher, Tyler and Powers each contributed 11 points.
"We've been like that all season long," Eshbaugh said.
Junior Wes Hinman added six points.
Eudora finished the season 14-8.
Fisher received All League, first team honors.
Hinman and Tyler received honorable mention.
More like this story