Editor's note: To commemorate one year of "Living" stories that focus on Eudora's community members, The Eudora News takes a look back at three former "Living" stories and catches up to where each individual is one year later.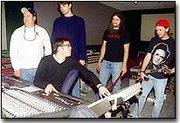 Red House Recording
Red House Recording has been busy the past year. Owner Sam Platt said the little studio on the corner of Seventh and Main streets recorded 73 bands during 2000.
"That doesn't include we recorded the high school marching band and the grade school honors choir," Platt said. "That was fun."
The recording studio has also had some exposure of its own. Representatives from Abercrombie and Fitch videotaped a band called Apple Seed Cast for the store's in-house videos. The videos are shown in A&F stores and show the band recording at Red House.
Along with recording local and area artists, Red House added rooms upstairs for out-of-town bands to stay in when they come to record.
Platt said Eudora's small-town charm seems to have helped bring more business to the recording studio, business that he's happy to have.
"The bands from out of town love to come here," he said. "They love to come to this little town, get away from it all and stay up there. They love this little town."
Annie Dunavin, country singer
While Red House is busy recording music, Eudora resident Annie Dunavin is busy hitting the road and singing it.
Dunavin started her singing career in 1993 after taking second place in a karaoke contest. She released two independent country albums, a self-titled debut in 1997 and "Come on Time" in 1999. To promote her albums and keep her fans filled with music, Dunavin performs at Opry houses in Kansas, Nebraska, Missouri and Iowa.
Dunavin said little has changed in the past year, except she's picked up a new instrument. She learned to play the mandolin and began singing Bluegrass. She incorporates her new musical tastes into her performance.
"That's just something I've been interested in," Dunavin said. "I've picked up the mandolin so I've been trying to get that into it."
Dunavin's next performance will be a concert presented by the Kiwanis Club of Kansas City Kansas West. The show is 6 p.m., March 18 at the Kansas City Kansas Community College Arts Center. Anyone wanting more information on tickets may call Dunavin at 542-3945.
Ron Crystal, horserider
While Dunavin sings about the life of cowboys, rural Eudora resident Ron Crystal is living the life.
Crystal, a bareback horserider, said he hasn't been in many rodeos in the past year. With the high costs of entering, maintaining a horse and keeping in shape, Crystal has spent the colder months preparing for an indoor rodeo in April in Salina.
"I'm not going to travel too far out until I've got a good pocket full of money and got some rides under my belt," he said. "I've been doing a lot of riding though, just not a lot of rodeos."
Crystal has spent some of his time using his horses for carriage rides on The Plaza in Kansas City, Mo. But his biggest time consumer and biggest love comes from being a single parent.
Crystal said he continues to work, be a father and focus on the future to when he can take the reins and ride after it gets warmer.
"Basically, just hanging in, putting up with cabin fever," he said.