Downtown renewal
Eudora Chamber of Commerce looking at ways to spruce up business district
The Eudora Chamber of Commerce is taking its first steps toward revitalizing the downtown area and putting a new face on local businesses.
The chamber heard from representatives of Tonganoxie and the state of Kansas regarding a downtown revitalization program. The chamber is using Tonganoxie's downtown business district as a model for possible improvements here.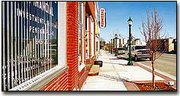 Tonganoxie Mayor John Franiuk said the improvements to the city's downtown were radical.
"We've come a long way, there's no doubt about it," he said.
Keith Turnbaugh, chamber president, said the chamber's first step is to apply for a Community Development Block Grant (CDBG) from the state. The state receives up to $4 million in funds and typically grants $1million to $1.5 million for projects. There are many different programs available through the CDBG, but the Eudora Chamber plans to focus on one that would improve the downtown look by upgrading building facades, streets and other areas of businesses.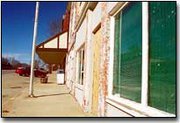 Turnbaugh said the chamber should receive information on the CDBG soon, then it will form a committee to take the next step.
"That is probably the way we're going to go," Turnbaugh said. "To do (the CDBG), we'd have to get a committee set up with the downtown businesses. The chamber can go so far, then the city takes over."
Pam Trefz-Staab owns two buildings with her siblings and husband on Main Street. The buildings have belonged to her great-grandfather, three great-uncles and her father. As an owner, she supports what the chamber wants to do. Staab said she would like to see the program followed through as long as Eudora businesses don't bear a financial burden.
"I am in support of it," she said. "I just want to make sure it's not a hardship in any way on business owners and tenants down there. I think many of the businesses would like to see that downtown area revitalized. That's the sense I get anyway."