Smokehouse and pub to carve niche on Main Street
Two local men with entrepreneurial dreams are opening a smoking new restaurant in Eudora's downtown business area.
Business partners Steve Koerner and Danny Strimple are opening Cutter's Smokehouse and Pub. Koerner said the restaurant will specialize in barbecued beef, brisket and pork, while maintaining a sports bar atmosphere. A big-screen television and other smaller sets will provide customers with views of big games.
Koerner said he is looking forward to the day when the business can open its doors and he can get busy cooking.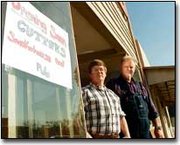 "Danny and I have been wanting to do this for sometime," he said. "We just kind of worked it out and I talked to him and he said 'let's do it.' We've wanted to do this for probably the last four or five years."
Now, the two are getting their chance. With the closing of Maria's Restaurant, 726 Main Street, they've found a place to carve their niche into Eudora's downtown. They purchased items from Maria's, such as stoves and freezers.
Koerner said he was unsure when Cutter's would be ready to open. Some additional smokers need to be installed, along with a general remodeling of the building's interior.
"It's going to take awhile," Koerner said. "We've got to get everything put in. We've got a large southern-pit smoker that we're going to put in there."
Strimple said coming up with a name for the establishment was easy. He is a woodcutter by trade, Koerner a meat cutter. When they put the two together, the answer was obvious.
"We kind of do some cutting on different things so we decided to call it Cutter's," he said.
Strimple said Cutter's products would be no surprise to some Eudora residents. He cooked 35 slabs of ribs at a fund-raiser for 14-year-old cancer patient Brooke O'Grady last September.
Koerner said he was confident Eudora's customers would come in to sample the goods and he hopes they'll enjoy a little atmosphere in the process.
"People here in town know some of our ribs and some of our briskets, so they're aware of some of our smoked meats," Koerner said.