Census: Eudora's population not as large as some thought
Signs welcoming motorists to Eudora claim the city's population is 6,300 and growing. According to the latest reports from the 2000 census, Eudora is growing, but its population is nowhere near 6,300.
The United States Census Bureau released figures March 13, showing Eudora's population at 4,307. That figure was up 1,080 from 1990, when the city's population was recorded at 3,006. Eudora had the highest percentage of change in Douglas County, with 43.3 percent, the census said.
New construction played an obvious part in Eudora's growth. The trend is continuing. City building inspector Rick Treas said 58 permits where issued for new homes in 2000 and four for duplexes.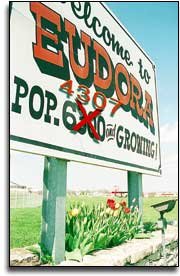 Much of Eudora's growth was due to an increase of whites, making up 94.9 percent of the population with 4,086 people, up from 2,911 in 1990. Hispanics made up 2.4 percent of the city's population with 103 people, jumping from 61. Blacks made up .7 percent of the population with 30 people, up from 1990's figure of nine. The number of Asians also increased from five in 1990 to 21 in 2000.
The number of American Indian and Alaska Natives remained nearly unchanged, down one from 1990's number of 64 people.
Mayor Fred Stewart said the numbers would aid the city with future planning. As for the signs, Stewart said they were put up two years ago. Because the city had no official record of Eudora's population at the time of the signs' construction, Stewart said, a formula was devised and the number was estimated.
City officials took the number of electric bills sent out by the city and multiplied that number by three, the size of an average household, the mayor explained. Using that formula, the city arrived at the figure to 6,300.
Stewart said city officials would discuss changing the signs at the March 26 Eudora City Council meeting.
"Since the census numbers have came out, we'll change it," he said.
Eudora City Clerk Donna Oleson said the numbers have not been officially brought to the city. However, she said the figures seem to be on the low side.
"I found it very hard to believe," Oleson said. "There's just been so much growth, I guess we'll just have to go by what the census tells us."