A showcase of local history
Bill Hadl and Jon Showalter love working for the city. The two also have a love for the history of Eudora. After combining their efforts, they put together a small-scale pictorial of some of the city's history and brought it to work to enjoy.
Showalter said the project began after Hadl took a trip to Watkins's Museum, Lawrence. There, Hadl was shown pictures of Eudora dating back to the late 1800s.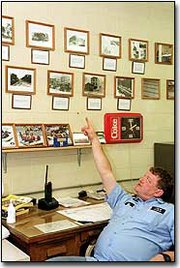 "That's where it all started," Showalter said. "Bill Hadl went and toured (the museum) and they said they had multiple archives."
Multiple archives was all Hadl needed to hear. He took some of the extra pictures. Showalter began doing research of his own, talking to locals such as Kermit Broers and Tom Pyle about the history of the area. Then, they found more pictures at the Eudora Public Library. Some of their pictures showed parts of Eudora, which no longer remained as it was in days of old. Some prized pictures include the Eudora Flour Mills, which was one block west of the Santa Fe Depot at Sixth and Acorn streets. Another flour mill, the Eudora Mills, stood at Fifth and Locust streets and Kaw Valley Bank was located on the corner of Seventh and Main.
Eventually, they gathered their pictures together and placed them on the office wall at the Eudora Water Plant. Showalter said it was a way to display it out in the open, rather than keep the pictures hidden away somewhere.
"I just thought it would be kind of neat to have a history of the town," Showalter said. "I have found out so many little stories."
As the two discovered more pictures and more history, their love for Eudora history grew. Both said they learned a great deal about his beloved town and look forward to learning more. Showalter said he would like to see a museum in Eudora; something that focused solely on Eudora's history.
"Something to preserve it," he said. "You're getting to the day and age now that you don't have the word of mouth like you used to."
More like this story