Personal: The 51-year old Koerner and her husband, Steve, have two children, Justin and Amanda.
Professional Background: Koerner has been employed by Kansas University for 31 years. She has extensive administrative and budgetary experience and office management experience.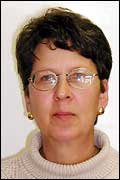 Political and Civic Experience: Currently a member of the KU Classified Senate; member of personnel committee, subcommittee of Classified Senate; member of Eudora Band Parents Organization.
What does Eudora need to change?
If there is not already an ordinance, one needs to be passed that house numbers be prominently displayed on all homes, apartments, etc., so emergency personnel and the fire department won't have problems locating the correct house.
The electric rates need to be lowered, especially now that the cost of natural gas is too high. I don't believe we can do anything about the cost of gas, but we should be able to do something about the cost of electricity.
Eudora's growth needs to be controlled. We simply cannot afford to build new schools every five years.
We also need to look for grants and other federal or state aid to help with infrastructure upgrades. The small town of Elwood received $2 million to upgrade their sewer system.
The city needs to implement an inventory system to track what the city owns and how old the items are.
Also, do we really need to purchase an item simply because it has been put in the budget? I would like to see better budget management.
We need to elect council members who base decisions on what is in the best interests of the citizens of Eudora.
What commercial businesses is Eudora lacking that it should attempt to recruit?
I see that Boeing wants to move their headquarters from Seattle to the Midwest. I would like to see Eudora attempt to attract more large industries. This would help with the tax base and offer additional employment options for the citizens of Eudora. In order to do this, I think we would need a larger industrial park.
This would require a public vote, but I would like to see a liquor store in town. I occasionally like a glass of wine with my supper and would like to be able to buy it locally. In line with that, I would like to see Eudora restaurants be able to offer liquor by the drink. I am sure this opinion will raise some eyebrows, but keeping business local and supporting local businesses is very important. If we have more options for people to spend money in Eudora, the better the city will be.
Are there any professional positions the city needs to add?
Now that we have a full-time recreation director, the only other professional position I would like to see explored is a city manager. I would like to look at the mayor-council-manager form of government. I think a city manager could coordinate all city departments. The city manager must have good communication skills, good organizational skills and the ability to deal with a variety of day-to-day problems. Budgetary experience would also be necessary.