Personal: The 33-year-old Woods and his wife, Amy, have three children at home, Kayla, Samantha and Wyatt.
Professional Background: 14 years in the Douglas County Sheriff's Department as a corrections officer, patrolman, drug enforcement agent, patrol corporal and currently a detective.
Political and Civic Experience: Protection officer for surrounding community events including the CPA Picnic; Douglas County Free Fair and the Vinland Fair; coached T-ball and soccer youth sports.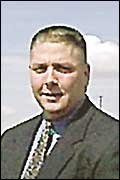 What does Eudora need to change?
Eudora needs to move forward with all aspects of the local government and continued growth control. Growth is inevitable in Eudora, especially since we are in the K-10 corridor. We can accommodate this growth by controlling what image we want this town to stand for and by adding improved management practices. We need to include more local businesses with the growth also. By adding local business we generate not only more revenue but also more jobs, eliminating the need for local residents to work in neighboring big cities. It also allows those residents to become more involved with their local community.
What commercial businesses is Eudora lacking that it should attempt to recruit?
Eudora needs a recreational facility for teenagers. Many parents have expressed their concern in this area. We don't have a place in town, with the exception of the local cruising streets and car wash, where teenagers can go to socialize with their friends. They must either go to Lawrence or Kansas City. A Home Depot or Lowe's and chain grocery store would also benefit Eudora. Local dining places, such as fast food or sit down, and even a wine and spirits store could be supported by our community. Other small towns are able to offer these accommodations to their residents and we should also. Some area residents may not be susceptible to the wine and spirits store but we need to look at it in the business aspect. People buy these items whether they get them here or elsewhere so why not keep the business in town.
Are there any professional positions the city needs to add?
A city manager or city administrator should be added to the city staff and possibly a public works director. The city administrator could generate a budget and make sure the money is utilized in a wise, effective and efficient manner. The administrator could also improve communications for the advancement of grants and recruitment. The public works director could create an effective management solution to the job overrun of present city employees and preserve control over the construction of future growth. The director could also aid in the creation of a street plan to improve local streets and utilities that are outdated or in need of attention. Our city is dependent upon the people who maintain and run it. Supporting these positions can keep our resident's best interests at hand while minimizing the growing pains of our community.