Eudora softball team ready to compete
It may be called softball, but the Lady Cardinals are anything but soft when it comes to the game.
With a new coach, a new attitude and a core of six seniors, expect Eudora to be hard on its opponents.
"We're anxious to get out and play. It always feels good to get your cleats under you," new head coach Cara Kimberlin said. "We've been staring at the same four walls since mid-November and we need a change of scenery."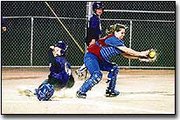 The seniors echoed the sentiment and are ready to compete.
"I've been waiting for softball to start since the beginning of the school year," Elizabeth Wright said, one of the girls of spring who only plays that one special sport.
Wendi Burke, Ashley Kraus, Melanie Smith, Roshena Niedens, Betsy Hickman and Wright are the seniors that will provide experience and leadership as well as enthusiasm and a huge competitive spirit.
Five of those seniors were starters last season, and Smith hurled 17 of last year's 21 contests. Smith and Niedens are three-year letter winners. Junior starter Karen Grosdidier, who was the leading hitter from last year, is also back. Numbers are up, with 25 girls out for softball including six freshmen.
The squad struggled to a 6-15 record a year ago, never quite living up to its potential.
Kimberlin, who has a master's degree in athletic administration and sports psychology, dwells on the positive and believes in learning from mistakes.
"If you boot a couple of balls you might be thinking 'please don't hit it to me.' I want them to think 'this is my opportunity to get someone out,'" Kimberlin said.
That philosophy might already be working.
"To get someone out is the best feeling," infielder Kraus said. "But it's great to hit the ball and make them eat it too."
Making the opposition eat it is one of the fundamentals Kimberlin has been stressing in practice, along with throwing, defense and confidence building. She also likes diversity, and most of the girls play two positions.
The line-up is not yet set, but expect Smith to be the pitching ace. Frosh Kelly Spence will also see time on the mound and Mallorie Cleveland, a sophomore, will get to hurl a few.
"Melanie predominately throws fastballs and she's smart and keeps them low so they hit a lot of ground balls. Kelly is a good complement because she throws more junk and moves the ball around more," Kimberlin said.
Behind the plate will be Burke, who played there last season, and has the communication and leadership skills needed to serve as catcher. Sophomore Crystal Landis will back up Burke.
Nearly all of the infielders are interchangeable and Kimberlin can shuffle them around as needed. Niedens has the best side-to-side range, according to Coach Kimberlin, and may be asked to move from first base, where she already has a scholarship to play at Highland Community College when she graduates, to short stop. She will also play first where other possibilities include last year's first baseman Karen Grosdidier and junior Andrea Ahrens. Kraus has experience at short and second base where she will see action, as will Spence, Burke and Wright. Junior Julia Born and Smith, when she isn't on the mound, will most likely field third base.
The outfield also holds several possibilities. Hickman, who said she prefers centerfield because she can see everything that is going on, will be one of the senior leaders in the outfield along with Wright. Grosdidier, sophomores Nicole Born and Mary Johnson, plus Cleveland and Ahrens will all get their shot at tracking down fly balls for the big catch and backing up the infielders.
The Lady Cardinals first take the field at Pleasant Ridge for a double header on March 27 and next play host to Baldwin on April 12.
"I think we have the talent and camaraderie we need," Kraus said.
"We're a lot more competitive," Smith added, who made the decision last week to sign at Division III Central College of Iowa because she liked the school and its competitive softball program.
"We'll try as hard as we can, and we're real happy with our new coach," Hickman said.
The Cards' new coach has been with the district two years and has helped with a variety of girls' sports.
She hails from McLouth where she was a three-sport prep athlete. At the time, McLouth didn't offer softball, so Kimberlin got her first diamond experiences in the summertime. In college at Allen County, she received a two-year scholarship for basketball and softball, and she discovered fast-pitch softball playing catcher and second base.
Kimberlin continued her education at Baker, but had to give up her first love due to scheduling conflicts with her student teaching and played only basketball for the Wildcats for two years.
After Baker, she worked for two years in Indiana as an assistant softball coach for the Division I program at the University of Evansville, before returning to finish her education with a master's degree at Kansas University.
"I learned a lot and it was a great experience coaching at that level," Kimberlin said of Evansville.
While still in school at Baker where she served as a softball assistant, Kimberlin had her first contact with Eudora, helping Gary Hinman with middle school volleyball. In the 2000-01 school year, she has coached seventh-grade varsity girls basketball, eighth-grade junior varsity volleyball, freshmen girls basketball and now has her first head coaching opportunity with softball.
"She knows what she is talking about with fundamentals and team morale," Niedens said of her new mentor.
And she knows about competing. Kimberlin, 30, plays on three summer teams with tournaments almost every weekend. One competitive women's team she plays for made a trip to Shreveport, La., last summer and finished fifth in a field of 50 teams in a Class C slow-pitch tourney.
"In the summer, I'll play 200 games. That's my relaxation," she laughed. "If I come home sweaty, gross and dirty, I've had a good weekend."
Burke, who has also inked with Highland next year, summed up the love of the game, and the dirt.
"I like getting dirty," the Cardinal catcher said. "Getting knocked over is fun, as long as I get them out."
More like this story