Personal: The 51-year-old Burkhardt is single, has five sisters and is a 45-year Eudora resident.
Professional background: Graduated from Eudora High School in 1968; B.G.S., Speech & Drama with emphasis in Radio-TV-Film, Kansas University, 1974; 15 years with Hercules, Inc.; two years at Certipharm, a division of Oread Labs, Inc. as a Compliance Technician; currently property specialist in the Business Services Office, University of Kansas Center for Research, Inc. (KUCR).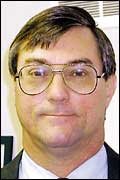 Political & Civic Experience: Completing fourth year on the Eudora City Council; Eudora City Council President, two years; Chairman, City Council Finance Committee, three years; Eudora City Council representative to Douglas County Emergency Management Board, two years; President of Eudora Area Historical Society 1998-2000; planning committee and emcee of EudoraFest, 1998-2000.
What does Eudora need to change?
Eudora and elected officials specifically, need to adopt a mission statement to set some goals for which we can aim. We need to decide if we are going to continue to allow large developments in the future, such as the 350-unit Shadow Ridge near Eudora High School, or a 500-unit modular home development bordering the Winchester Road on the west side of Eudora. Large developments as listed above have a profound impact on Eudora's infrastructure. In addition to providing water, wastewater treatment, electrical and street services for these developments, we must be mindful of police and fire protection as well. Eudora needs to do a better job of planning for future development. We need to monitor utility rates, preferably on an annual basis. We should be adjusting those rates, up or down, as needed. The council needs to adopt and adhere to policies and procedures.
What commercial business is Eudora lacking that it should attempt to recruit?
Any business that would provide an acceptable number of jobs for Eudora residents, with a livable wage, is not a risk for pollution and is a solid community contributor would be welcome to Eudora. Consideration for tax abatement should be scrutinized when jobs for Eudora residents are not anticipated. Also, it's my strong feeling separate hearings should be held for city tax abatements and school district tax abatements. They are two separate issues and should be treated as such. We currently have several vacant buildings downtown and it would be to Eudora's benefit to see those buildings occupied. The city council should consider waiving building permits for entrepreneurs remodeling our downtown buildings. We are talking about restaurants, arts and crafts shops, antique shops, a Eudora History Museum, etc. Main Street needs a facelift and needs to be replaced. We have a city engineer we have not utilized for grant writing. We should use his expertise in applying for grants to breathe new life into Eudora's downtown district.
Are there any professional positions the city needs to add?
There is definitely a need for a city manager. The time has arrived for Eudora to receive professional management. According to the latest U.S. Census report, Eudora's growth rate from 1990 to 2000 was 43 percent. It's evident to me looking from the inside, a city manager is needed to manage the day-to-day affairs of the city. With the current growth rate, part-time politicians cannot keep pace with all that occurs daily. Some may argue we cannot afford the salary for a city manager, which can be estimated at $50-60,000. It's my belief we can't afford not to hire a city manager. Another argument comes from elected officials who may say a city manager "takes away their power." First of all, the city council would select the city manager, which would report directly to the governing body. Secondly, the city manager would be the daily enforcer of policies and procedures set forth by the city council. Thirdly, the city manager could be an appointed position, or a contracted position. The city manager would work closely with the city superintendent, city clerk and police chief (as well as the fire chief). This would enhance communication within the city work force.