Personal: The 40-year-old Ross has one daughter, Laura.
Professional Background: Bachelor degree in Business Administration and Accounting from Northwestern Oklahoma State University, Alva, Okla. Currently, program technician at Douglas County Farm Service Agency.
Political and Civic Experience: Eudora Board of Appeals since May 1999; regularly attended Eudora City Council and Eudora Planning and Zoning Commission meetings for the past three years.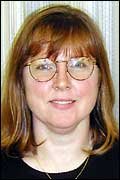 What does Eudora need to change?
I have felt for several years that Eudora needs to regulate its rapid growth so the infrastructure can continue to improve with that growth. Eudora needs to develop a long-term plan on how the city should grow. Yet, keep the small-town atmosphere that Eudora has to offer.
Another change is Eudora needs to improve some of the streets around town. The only east-west street in the residential area is 12th street and it definitely needs improving. It needs widened and curbs added, along with sidewalks. This project will take a lot of planning and money to complete, but in the long run it would be worth it. The street will be safer for all that travel on it.
I would like to see Eudora establish more neighborhood parks and see improvements made to the city's older parks.
What commercial businesses is Eudora lacking that it should attempt to recruit?
It would be nice if Eudora could recruit a garden center type business. This type of business is like the hardware store you think you have everything you need to complete a project, just to discover you're missing something. And with my recent campaigning or just driving around town, you see that the people of Eudora take pride in their homes and yards.
Another needed business is a car repair shop. If your car breaks down in town, you can bet it will cost approximately $50 to $100 just to tow it to Lawrence to be repaired.
Are there any professional positions the city needs to add?
I think, in time, Eudora is going to need to hire a city manager. As the growth continues, the city will find that a city manager will help with the simpler decisions. Which in turn will help the council concentrate on more pressing issues.