Smith keeps team on track, opponents off balance
With two splits this week, the Eudora High School softball team moved to 5-9 on the season.
All five wins belong to senior pitcher Melanie Smith who helped her cause with six strikeouts and a RBI in her most recent victory, a 4-2 win over Paola at home Tuesday.
"Melanie pitched wonderfully," Cardinal coach Cara Kimberlin said. "Her change-up was working really well and it kept them off balance."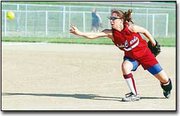 Senior Karen Grosdidier, has also been instrumental as of late. In 15 plate appearances in four contests, she's gotten on base 13 times with eight hits, four walks and she was hit by a pitch. Grosdidier's solid single up the middle started off Eudora's fourth that saw nine players bat and three runs score in the Paola win.
After Karen got aboard, centerfielder Mary Johnson was struck by a pitch and Julia Born followed with a single to load the base pads. Lauren Kracl delivered a hard hit grounder to short that plated Grosdidier. Kelly Spence got a RBI by taking one for the team, becoming the second batter hit in the frame. Kracl scored on an overthrow to first.
Eudora's initial run of the game followed three consecutive singles in the third inning. Ashley Kraus poked a hit to left center, Wendi Burke dropped in a single to short center and Smith ripped it to right.
Paola managed a single run in the fourth and seventh in the bottom half of Tuesday's twin bill, but came up short 4-2.
"I'm happy to beat Paola," said Coach Kimberlin. "I don't think I've ever beaten them in anything."
The 5A perennial powerhouse Panthers won the opener 6-2. Eudora trailed by just one, 3-2, going into the sixth when a couple of errors and a big triple resulted in the final.
The Cardinals' two runs were scored in the second inning. Kraus singled, Smith and Grosdidier walked and junior Julia Born launched one to center that fell in for a hit and two RBIs. Eudora stranded ten in the loss.
Last Thursday, the Cards traveled to LaCygne for a doubleheader with Prairie View. Prairie View won the first game 11-1 despite nine Eudora hits, but the local ladies came back in the nightcap 12-7.
"In the first game, they had a slow pitcher and it really messed us up," Coach Kimberlin said. "We had a lack of intensity, no communication and a lack of thought on the base pads. It was a much better feeling coming home with a win after that loss."
The second game got off to a rocky start and Eudora trailed 6-2 after three frames.
The Cardinals erased the deficit with three scores in the fourth and seven in the fifth helped by errant Prairie View pitching.
The Cardinals are back on the road Thursday for a pair of contests at Osawatomie and will host Louisburg on Tuesday.
More like this story