Vietnam war hero honored after 33-year wait
Russell Haun is a patient man.
After a 33-year wait, Haun has received recognition for injuries received while serving his country.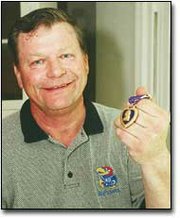 Haun, a Vietnam veteran, was honored with the Purple Heart award in March at the Kansas Disabled Veterans (DAV) executive meeting in Overland Park. A member of the 101 Airborne Division, Haun received the award for injuries sustained while on patrol north of Hue (pronounced way), Vietnam.
"I was injured when I was out on 'recon' with a minesweeper sweeping a trail," Haun said. "Unfortunately, I found one."
Haun spent one month at a hospital in Japan and was then moved to a hospital in Ft. Riley where he spent six months recovering. While there, he filed paperwork for the award. An error in the paperwork processing caused a delay and the award never came. Haun said he eventually stopped pressing the matter with the department of Veterans' Affairs, but was hopeful it would be resolved.
"I just kept waiting and waiting and I never heard anything from them," he said. "I knew eventually, one of these days, I would get it."
At the DAV meeting, Haun received the Purple Heart in a surprise presentation. Though the award was overdue, Haun said he was glad the chain of events worked as it did.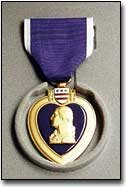 "It meant more to me having the award presented before all the other disabled veterans than at another time," he said. "It really meant a lot."
After recuperating from his injuries, Haun remained at Ft. Riley and worked as a mail clerk. Now, Haun serves his country and fellow veterans as the Kansas State Commander of the DAV. When not working part-time for the Eudora Post Office, he works with disabled veterans, ensuring they get their benefits.
According to the Military Order of the Purple Heart, the award was devised by George Washington and was originally called the Badge of Military Merit.
Only three known recipients were given the badge for their service in the Revolutionary War.
After the Revolutionary War, no one received the award until it was reinstated by the War Department on February 22, 1932. Today, armed forces personnel can receive the award for injuries sustained while in service to the United States of America.