Abel is flying high, breaking records
Not all great athletes are tall.
Five-foot-one-inch Brandi Abel is proof of that. She has proven it by consistently placing in the top three in the triple jump and long jump at Eudora High School track meets this season.
Abel, a junior, said she has gotten a lot stronger in the past year and has been working a lot on her technique in both events.
"It's been kind of tough," she said, "because I've really had to work at it. I've had to get my jump and leg a little stronger. Since I have shorter legs, I've had to get a lot faster, too. Most of the other girls I compete against are taller than me, 5-9 or 5-10."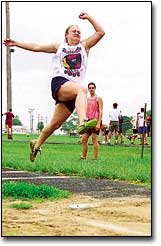 Coach Dave Durkin said he has been impressed with Abel's performances so far this season.
"Brandi's been really steady," he said. "She works very hard and comes to practice every day. She really cares how well she does and is a good gal to have around."
The ultimate accomplishment for Abel so far this season was breaking the high school record in the triple jump with a showing of 32-2.5 at the Cardinal Relays a couple of weeks ago, which was about three feet farther than her best last season.
"My biggest goal has been to break the triple jump record," Abel said. "Now, I guess I'm just going to keep on breaking it."
Abel anticipates qualifying for the state track meet in the triple jump.
She has competed in the long jump since she was in junior high school. Her father, assistant track coach Ron Abel motivated her to give it a try.
"My dad talked me into trying out for it when I was a freshman," Abel said. "I kind of fell in love with it. It was a lot different from the long jump because I could jump a lot farther."
So far this season, Abel has surprised both herself and the coaches.
"My coaches weren't sure how I was going to do in the triple jump this year," Abel said. "My teammates are kind of wowed by it. They knew I could jump, but they weren't expecting that (breaking the school record)."
Abel said having her dad as her coach has pushed her to improve. She said she enjoys it and he has high expectations of herself.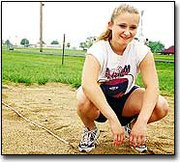 Building on a 29-6 jump from last season has been a thrill for Abel.
"Last year I dogged on myself a lot because I didn't place very well in all the meets," she said. "I push myself harder now because I know what I can do."
Abel said her vast improvement from last season has been the biggest surprise for her. At meets, she tries to remain focused and not worry as much about the execution and just jump.
This year, she recognizes how competitive she has become at track meets.
"If someone is really close to me, I tell myself that I really need to get it together," Abel said. "If I'm way out there from the others then I am really pleased with myself."
Abel still has her work cut out for her in the triple even though she has reached her goal of beating the school record. She said the second series of her triple jump is a lot shorter than her competitors.
However, the last jump is a lot farther than the others. She said if she gets too high on the first series, she comes down hard on her leg, which can't support the shock from the hard ground very well. Then, it makes the second jump a little difficult.
Abel's love for track doesn't stop in the sand of the long and triple jumps.
Abel has run on the 4x100-meter relay team since she was in seventh grade.
"This one's the best, though," she said. "My freshman year we were pretty fast too, but they were all seniors and left me."
The 4x100-meter relay, ranks right up there on her list, but she's obviously hit a home run with the triple jump,
"I've always done the long jump," Abel said. "After watching my dad coach for awhile, I just thought I would try it out when I first started track. The first day, I just liked it. I really thought it was fun."
As far as the school record goes in the long jump, Abel is still chasing that mark, 17-5. Abel's plans in the long jump are to reach in the 16s, especially if she's going to qualify for state in the long jump. Abel executed her farthest jump at the Cardinal Relays, 15-10. Last year, her personal best was 14-9, which she said she only did once. The rest of her jumps were in the high 13s and low 14s.