Community forum touts partnerships
Drawing from his experience as both a father and a school administrator, Richard Veech addressed the Eudora community about the Columbine tragedy and the community's role in crisis situations.
With 100 residents attended the public forum last Thursday at the Eudora High auditorium. Veech spoke on how emergency personnel, school officials and the community should come together effectively to handle a crisis situation. Though school shootings such as Columbine are often the first to come to mind when you hear of a school crisis, Veech said, other incidents such as bomb threats, hazardous material spills and even weather conditions can create problems for an unprepared school district.
Veech expressed the importance of having a crisis plan so all are prepared to the best of their abilities, should an incident occur.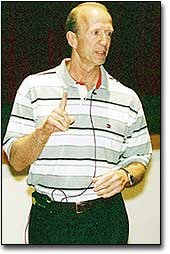 "When you plan emergency management for your schools, you cannot do it alone," Veech said. "Everybody should be involved.
An area administrator for the Jefferson County Public School District in Colorado, Veech was on the scene at the Columbine tragedy. His daughter, then a senior at the school, saw her best friend get shot and killed. After the Columbine incident, Veech said, he started teaching communities how to take proactive approaches and prevent another incident of school violence occurring.
One way to do this, he said, was for teachers, parents and community leaders to form strong partnerships with today's youth.
"I'm putting a lot of brunt on our shoulders as educators because we need to do that," Veech said. "It's important that we don't lose sight of these things both at home and at school. As a society, we have to learn to work together and build working relationships before something happens.
"My belief is that school violence is a result of a changing societal culture and not because of schools," he said.
With school violence, Veech suggested students to warn others when potential for a dangerous situation is apparent. A hotline for students and an anonymous comment box for students to pass information of possible danger have been implemented in the Jefferson County public schools, he said.
Sixteen-year-old sophomore Ben Gregg said he liked the idea of an anonymous comment box.
"I guess the drop box could be kind of useful," said the EHS sophomore. "It wouldn't have to be out in the open or anything."
At the end of the forum, Eudora West Elementary Principal Rod Moyer presented Veech with a plaque to thank him for speaking. Veech speaks to schools periodically across the nation, at no charge to the school.