Just in time for Mother's Day
Nottingham Elementary School experiences baby boom
At first glance, it may appear as though there's something in the water at Nottingham Elementary. But closer examination revealed it's that some women have chosen to juggle the task of being mothers and professionals at NES.
Within the past year, five NES faculty members have given birth, splitting their time between working and raising a family. Third-grade teacher Kim Riddle has been on maternity leave since the birth of her son, James. Riddle said she's enjoyed her time with her son, now 10 weeks old, but looks forward to teaching again.
"This is my last week off," Riddle said. "I'm anxious to get back to see my students, but it will be hard to leave James. It'll be nice to have the summer off with him. I look forward to that."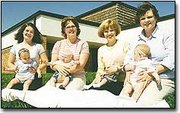 Riddle said family members helped ease her mind about returning to work. When she heads back to work next week, her mother and father-in-law will alternate days to watch James. Para- administrative assistant Melody Buchholz has also relied on family members to watch her nine-month-old daughter, Graci. Buchholz said her first child has taught her a valuable lesson in self-sacrifice.
"It's all about you when you don't have children," she said. "Of course, you have to plan everything around the kid."
First-grade teacher Angela Fox said her experience as a working mother has heightened her appreciation for others like her.
"I have a new admiration for parents who work full-time or have more than one child," Fox said. "I love kids, I really do. It's given me a new perspective as a teacher now that I'm a parent."
Computer para Kylee Foster said the working-mother task became easier over time. Foster has two children, in addition to her five-month-old daughter Emma. She looks forward to lunch during the week, because it provides time for a quick visit to her mother-in-law's. Emma stays there during the work days and Foster visits her daughter during lunch. While she knows her daughter is in good hands, she worries about missing the little moments such as a first step or word.
"They change so much in the first year and you feel like you miss a lot during the day," she said.
Buchholz said she's already anticipated that problem and found a solution.
"I've already told (family members) they're not to tell me when she's done anything," Buchholz said. "I want to believe I'm seeing it for the first time."
Candace Willis, para professional, said leaving her four-month-old son, Samuel, for the first time to return to work was difficult for her. However, it's the look on her firstborn son's face at the end of the day that makes everything fine.
"The best thing is going to pick him up," she said. "Though he's young, he still gets a big smile on his face."