Though Sunday is a day of rest for Barbara Hanna, it's also the inspiration for her home business, which incorporates her faith, talent and a desire to teach children about biblical fundamentals.
A Sunday school teacher for more than 30 years, Hanna said she had a hard time finding suitable material to meet her classroom needs. With children of different age groups in her class at Vinland Church of Christ, she wanted one lesson that could be easily understood by all. She also wanted a church lesson with activities that could be reproduced without purchasing extra copies.
Tired of the search, she began making her own.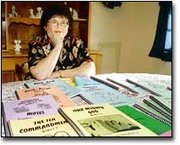 "That's why I started making reproducible books," she said, "Because I had a hard time finding what I wanted."
With Hanna's publications, Sunday school teachers can teach from the same bible story with activities such as crossword puzzles and word searches geared for different ages. Hanna said her start in the mid 1980s was slightly removed from technology as we know it today. She uses a home computer, the Internet and various religious graphics to make her books.
"At that time, I had an old typewriter and I eventually got an electric," she said. "Now, it's hard to make them from scratch when you don't have a computer to make them with."
After a brief hiatus near the end of the 1980s, Hanna started up full swing in 1994. Her business now has 550 customers in 45 states who phone in orders to her Eudora home. Her business can be found on the Internet and also has distribution in 12 stores nationwide. She has received orders from as far away as Australia, Canada and England.
"Of course, they have to pay a lot of postage," she joked.
Hanna has also found a way to incorporate her work into her other business, daycare. She uses biblical teachings to help convey moral principles to her daycare children.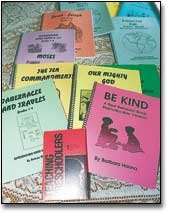 "I wanted to have something to teach them to be kinder to one another," Hanna said. "It really did help improve their behavior because each day it focused on one point of good behavior."
Despite a solid customer base and a wide array of books from which to choose, Hanna said she's yet to come out ahead in her efforts.
"It's very costly to do this work," she said. "Actually, I'm not breaking even yet."
Her goal is to eventually turn a profit, but she said her real reward is being able to share her faith though her books.
"I love the Lord. I feel like there's a real need here and I love teaching my class," she said.
For more information, call Hanna at 542-3180.