Eudora track team sets sights on state meet
The regional track meet Friday in Tonganoxie will test Eudora's mental and physical strength.
However, if everything goes as well as Coach Dave Durkin expects, the Cardinals should have several athletes qualify for the Class 4A State Track meet May 25-26 in Wichita at Cessna Stadium.
Determination and the right mental state will have to come into play Friday, the coach said, especially considering Baldwin City and Louisburg's first and second place performances at the league meet May 10. The Cardinal boys were third at league.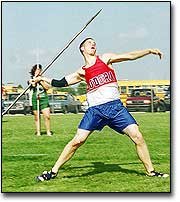 "There's not any kid we're taking (to regionals) that if they go out and compete at their highest level they don't have a shot," Durkin said. "We're expecting good things out of the kids Friday."
Six athletes qualified for the state meet last year, but Durkin believes improvements his runners have made this year will increase that number .
Junior Zac Tyler, both individually and as a leg for two relay teams, should have several opportunities to earn his ticket to Wichita. He got a taste last year, competing on the Cardinals' 4x400-meter relay team at state. This year has been more productive for him on the track and he anticipates that paying off.
"I'm in my best condition right now," Tyler said. "It's just going to be a lot of mental stuff to deal with come Friday. I think that if it's a good day and the conditions are right, I could possibly qualify in all my events."
Tyler's events include the 200-meter, 400-meter and the 4x100 and 4x400 relays.
"The 400 is going to be a really close race," Durkin said.
Durkin said each of the relay teams could be heading to state. Hitting the handoffs will make all the difference in Tonganoxie, he said.
Junior James Barr has been leading the way for Eudora's runners the past few meets and continued in that role at the league meet.
After running a solid 2:05 anchor on the 4x800-meter team, which finished third in 8:47.81, Barr ran the 400-meter and took fourth in 53.6.
"James has really been coming on the last few weeks of the season," Durkin said.
Senior Aaron Slavin, Eudora's most veteran state performer, is shooting to compete for his third straight year in Wichita. His biggest obstacle might be Matt Noonan from Baldwin City. Noonan has been Slavin's rival in the 1600 and 800 throughout his career. At the league meet, Noonan outran Slavin by six seconds in the mile.
Durkin continues to have faith in his hurdlers. Seniors Brian Harris and Brett Becker have been competing neck and neck in the 300-meter hurdles this season.
Harris, who will play football at Benedictine College in Atchison this fall, finished third at the league meet with a 42.45-second time in the intermediate hurdles. Becker didn't place. But, he did manage a fifth-place finish in the 110-high hurdles in 16.10.
"I'm going to have to run my best time ever if I am going to qualify for state," Becker said.
In the throwing events, Cody Lauber should be the boys' best bet at qualifying. Lauber competes in the javelin and took third at league with a throw of 152-2 after scratching his first two throws in the finals.
"I still have a ways to go," Lauber said. "I'm hoping to throw 170 (feet) at regionals."
Durkin is also looking to several girls to step up and compete Friday. The girls have placed higher than last year at each meet.
Sophomore Jenny Durkin will be among the Cardinals' top contenders for a state berth on the girls' side.
Durkin has consistently placed in the top three this season in the girls high jump. Her highest jump was 5-4 at practice. At the regional meet, she is shooting to jump at least 5-2. She said that's what it would take to qualify. Durkin barely missed making it over the 5-2 bar at the league meet. She earned a 5-0 mark and placed fourth.
"I was really disappointed with my placing at league," she said. "I'm definitely going to have to jump higher than I did there."
Durkin said her toughest competition would probably be Emily Brown from Baldwin City. Brown was second at the league meet with a jump of 5-2.
Junior Brandi Abel is shooting for personal records in both the triple and long jumps, though she has already accomplished that feat once this season. She expects tougher competition at regionals and is not sure how she will fare.
"I should do fine as long as I don't psyche myself out too bad," she said.
"A lot of things can happen. I just hope she gets her step and pops a good jump," Durkin said.
Abel's sister, freshman Rachel Abel, would have every reason to feel a little nervous competing for a shot at state so early in her career, but she's not.
"I'm not going to think about it so much that it affects my performance," she said. "I think I'll be okay if I just get my starts down."
Rachel competes in the 200-meter run and said she's been stuck in a rut lately, scoring 27.1 in the event.
She believes she will have to get her time down into the 26s if she has any chance of moving on.
"I'm just going to keep practicing this week and go out and try my best," Abel said.
Sophomore Sarah Abel qualified for state last year in the 400-meter run. Durkin said she should have another strong chance this year.