Baseball team overcame rocky start
Picture this. The high school baseball season has just ended with a loss in the second round of the Regional tournament. A few days after the loss a coach calls one of his players into his office for an individual meeting and one of the first things the coach tells his player is that he loves being wrong.
Doesn't exactly elicit visions of winning, but with Eudora High School head coach John Dunaway, it's exactly what you get.
Before you get the wrong idea, here's the clarification. Dunaway does not like being wrong when it comes to calling the hit and run or going to the bullpen early. He does, however, like being wrong when his players are the ones proving him wrong. And during the 2001 Cardinals baseball season Dunaway was wrong a lot.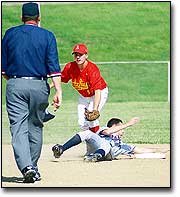 "After last year I expected to be two years away from being real competitive in the Frontier League," Dunaway said. "But we had a couple of guys move in from other schools who helped us out, and we had some guys on our team that stepped it up and really played well for us. I love it when they prove me wrong in that sense and that happened quite a few times this season."
Eudora finished the season with a 10-10 record and advanced to the second round of Regionals before losing to an experienced and talented Topeka Hayden team. For the young but feisty Cardinals, that might have exceeded expectations.
Early on, however, it didn't appear as if Eudora was going to exceed anything. In the first double-header of the season the Cardinals dropped both games but were just two groundballs away from winning both of them.
"In our first double-header there were two ground balls one in each game that made the difference between us sweeping and getting swept," Dunaway said. "In baseball there are three phases: pitching, hitting, and defense behind the pitcher. Most of the time it seemed like our pitchers would give us a chance to win, but we struggled with our defense."
Struggled might be an understatement. Of the 122 runs given up by Eudora this season, only 66 were earned. That means errors led to 56 runs this season nearly three a game.
But while the errors often opened the door for Eudora opponents, they also led to exciting finishes.
"In the middle of the season we had three wins in a row where we came from behind to win," Dunaway said. "And in a stretch where we won five of six, four were comebacks."
Call them the comeback kids, call them the cardiac Cardinals, call them whatever you want, but one thing that you could not call them all season long was out.
"When we got down, we just got more fired up," Eudora senior Daniel Chrislip said.
Perhaps the best example of the Cardinals' will to win this season came early on with a double-header against traditional power Spring Hill. At the time, Spring Hill was ranked No. 4 in the state, the Cardinals were 3-5 and the game was being televised on Channel 6.
The Cardinals went on to upset Spring Hill in a tightly contested first game and then pounded them in the second game riding a wave of emotion to even their record at 5-5.
"I think that was the highest emotional experience of the year," Dunaway said. "After that we believed that we could beat anybody."
Those two wins alone propelled Eudora to a .500 regular season and gave them the confidence needed to grab so many come from behind victories.
The comeback theme continued all the way to the end of the season. After finishing with a record of 9-9, Eudora moved on to Regionals to play Atchison in the first round. Traditionally Atchison has had one of the better 4A squads in the state but was down this season and Eudora eliminated the team relatively easily. That win set up a battle with a much more experienced Topeka Hayden team in round two.
Three times in the first four innings Eudora erased a deficit and heading into the fifth inning actually held the lead. In the fifth, however, the wheels fell off as Eudora allowed five unearned runs and ultimately lost 11-8.
"For young kids playing against kids older than them, I was so pleased with how hard our team played," Dunaway said. "The kids played with a lot of courage this season."
Individually four Cardinals earned All-League honors this season. Junior designated hitter Mike Lehman, who moved in from Olathe, earned first-team honors. He hit .425 this season and had an on-base percentage of .557. Once on base Lehman was an immediate threat as he was a perfect 18-for-18 in the stolen bases department. For that he earned first team honors.
Joining Lehman on the first team was sophomore shortstop Andrew Pyle. Pyle was just one-thousandth of a percentage point from leading the Cardinals in batting average with a .431 mark and his .615 slugging percentage and 3 home runs were enough to lead the team.
"Andrew and Mike Lehman are two of the hardest working kids that I've ever been around," Dunaway said. "They certainly deserved all-league."
Junior center fielder Lear Bowling was voted to the league's second team for his team-leading .432 average, eight doubles and 32 hits. He was the highest vote getter among second-teamers and Dunaway said had there not been other deserving outfielders in the league, Bowling would've been on the first team as well.
Finding himself on the honorable mention list was Daniel Chrislip. The senior pitcher had a 1.78 earned run average to go along with a record of 2-2 and three saves.
While the honor was nice, Chrislip said that building chemistry was his favorite part about the season.
"I think us totally coming together as a team was the highlight for me," Chrislip said. "At first we didn't really get along, but at the end of the year we were like best friends. It was a great year and it's kind of a weird feeling that it's all over. The season went by way too fast."
The all-league honors along with team awards were handed out Tuesday night at the annual post-season banquet. Pyle was voted as the team MVP and Defensive Player of the Year. Bowling was tabbed the Offensive Player of the Year. Chrislip was named the Pitcher of the Year and sophomore third baseman Heath Fanning earned Most Improved Player honors.
All but one of the names on that list will be returning to Eudora next season and Dunaway couldn't be more excited about it.
"I'm very excited about next year," he said. "We've got good kids coming back that make up a good core for a baseball team. Our sophomores this year were outstanding and really our JV players have been working hard as well."
For the 2001 Eudora baseball team, the season is over. But baseball has only just begun. Dunaway has met with each player individually and together they came up with goals and plans for the summer that will improve their play. Maybe the big hitters will come back next year and hit .400. Maybe the pitching staff of juniors-to-be will again come back and anchor the team. Or maybe there will again be some surprises that catch coach Dunaway off guard. Whatever happens, Dunaway hopes that the players come back with one thing.
"I'm hoping they can come back with a lot of confidence," Dunaway said. "They've seen that they can play with anybody, but there's still a lot that all of them can work on to improve."
"My advice to them is, go prove me wrong. I'll be the happiest guy out there."