Everley family commences celebrations
Phil and Helen Everley dreamed of the day their sons would graduate from high school, move on to complete college and eventually earn a post graduate degree. They just never dreamed it would all happen in the span of eight days.
Their oldest son, Mark, graduated from Kansas University Medical School Sunday. Their middle son, Patrick, joined him on the walk down the hill as he graduated from Kansas University. And their youngest son, Steven, will graduate from Eudora High School this Sunday.
To say it's been a busy week in the Everley household would be an understatement.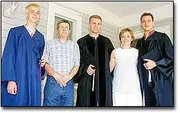 "It's been a little crazy," Helen said. "Patrick's reception and Mark's hooding ceremony are on the same night, so I'm going to Patrick's with a video camera and Phil will go to Mark's with a video camera. At least we'll get to see it that way."
The Everleys make it clear, however, that they're not complaining.
"We're very proud. They've all done so well and accomplished a lot," Helen said. "And this is something we've gotten used to over the years. They are all four years apart, so the same thing happened when Mark graduated from KU, Patrick from high school and Steven from the eighth grade. I guess the lesson here is don't have your children four years apart."
Steven will be the last Everley child to graduate from Eudora High School. All three earned the title of class valedictorian.
"We're a little nervous about our last one making his speech," Helen said. "I can only imagine the kind of family stories he could tell."
Steven said following in the footsteps of two valedictorians was intimidating at times, but it also provided the inspiration for him to achieve the same.
"I felt at times that I was trying to live up to people's expectations, but when I really thought about it, I saw the opportunities they had opened for themselves with hard work and I wanted the same thing for myself."
His brothers continue to set the bar high.
Mark will head to Indiana University for a three-year internal medicine residency. Patrick will attend Harvard in the fall where he will study biological and biomedical science.
Steven will attend Kansas University and is considering an education major.
Phil said his sons have always been academic standouts.
"You could probably count the number of "B's" that have come into this house on one hand," he said. "And we never really put any pressure on them. They were just smart students who applied themselves."
Mark agreed with his parents' philosophy.
"They created an environment for us that was conducive to studying and doing well," he said. "They made it easier for us because they didn't put pressure on us and we were free to pursue what we wanted. When you're doing it for yourself and not someone else, it's a lot easier to go to class."
Patrick said he looked within himself for inspiration.
"In high school, it wasn't all that challenging to get A's," he said. "When I got to college, the classes got tougher and I knew I had to work harder to get the grades."
Helen said she would be happy to pass along the secret to raising such motivated children, if there was one.
"There really isn't any great parenting secret," Helen said. "Sometimes you just get lucky."
Phil had another theory.
"I think a repressed gene must have finally surfaced," he said.