Five earn ticket to state at regionals
Qualifying for state is a dream for everybody but only a select few get to see that dream come true.
Eudora High School's track team qualified four individuals and one relay team at last Friday's regionals in Tonganoxie. They will compete at this weekend's Class 4A State Track Meet at Cessna Stadium in Wichita.
Coach Dave Durkin felt his team competed well even though Eudora only placed third or better in four events.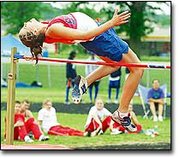 "It was a strong meet," Coach Dave Durkin said. "Everybody that qualified, I thought would qualify. Some others that didn't, if they'd had a really good day, could've done the same."
The boys finished eighth and the girls 12th.
Jenny Durkin
Sophomore Jenny Durkin was the lone girl to qualify for state. Durkin's 5'4'' leap in the high jump was just enough to earn third place and a ticket to state.
Durkin felt she could have done better despite besting her goal of 5'2'' at regionals.
"She needs to get 5-2 or 5-4 to place this weekend," Dave Durkin said. "She's been nursing a sore back the past three or four weeks which has been limiting her in practice and some in meets."
Jenny Durkin competed at state last season, and believes she'll do well if her back cooperates and she reaches her potential.
Mill Valley's Mindy DeGroot was first in the high jump with a jump of 5-4.
For the boys, Eudora qualifiers at the regional meet included junior Zac Tyler in the 400-meter and 4x400-meter relay, senior Brian Harris in the intermediate hurdles and 4x400-meter relay, senior Aaron Slavin in the 1600-meter and 4x400 and sophomore James Barr in the 4x400.
Zac Tyler
Tyler was the one in the bunch Durkin believed was a pretty easy qualifier. However, Tyler was not too happy with his time in the 400, posting a 51.9-second time for third.
"I didn't run very well," Tyler said. "I was surprised I qualified. I was disappointed in how I ran and figured I would do better at regionals than I did."
Tyler said a lot of mental preparation is involved in performances at regionals and said he felt that he might not have envisioned himself winning enough. He's hoping all the nervous energy he experienced at regionals will dissipate when he steps to the starting blocks Friday.
"Maybe I'll be able to relax a little bit," the junior said. "All I've got to do is compete well and hopefully make it to the finals."
Running at the front of the pack might feel great, but Tyler said he runs a lot better when he's chasing someone. At regionals, he led the majority of the lap. However, on the last curve, Femi Fadare of Lansing surprised Tyler and passed him on the inside. Fadari finished first in 51.1.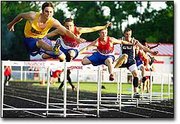 "He didn't pay much attention to the inside since he was out ahead of the other kids," Durkin said. "He ran a smart enough race and knew he had to qualify."
Tyler competed in the 400 at state last year but was unable to advance to the finals. He anticipates having to run a 49- or 50-second lap to move on this year. His time was 51.6 last year at state. This season, Tyler's best time was 50.8 at Silver Lake.
"That time has been etched into my head," Tyler said. "Fifty one is just not going to cut it at state. Tyler's mindset at state will be a little different this season than it was last.
"Last year (the goal) was making it to state and just being there," Tyler said. "This year, it's going to be make it to the finals and maybe even get a medal."
Brian Harris
Harris finished third with a time of 41.7 in the intermediate hurdles Friday. The winner, Ryan Hullings of Santa Fe Trail, finished with a time of 41 seconds.
Harris will be expecting a lot of himself this weekend. Placing at state in the hurdles would make for the perfect ending to his high school career. It would fit nicely with his other two state appearances this year in football and wrestling. Harris had the fourth-best time among regional qualifiers before his race.
"So, I figured it would be a close race," Harris said. "It's really exciting that I'm going to state. I think I'm mentally ready for it."
Harris is aiming to finish third or better at state. Last year, Harris barely missed qualifying for state with a fourth-place finish in the hurdles.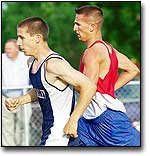 Aaron Slavin
Slavin earned his third trip to the state meet. He has raced in the 1600-meter run every year he has competed in track. Slavin was elated to discover his time after Friday's regional race. He earned fourth place and slipped in among the qualifiers, as he did last year. Slavin posted a 4:30.6 time in the mile.
"It was down to the wire and really exciting," Durkin said. "Slavin earned his best time of his career."
At last year's regionals, Slavin ran a 4:35 for his personal best prior to Friday. Baldwin City's Matt Noonan stole the first-place slot with a 4:27.9 performance.
"Normally, I would run against the clock," Slavin said. "At regionals, I was just running to place and didn't pay attention to my time. I knew there would be a lot of fast guys. I didn't pay attention to my time and just ran which kind of helped."
Slavin said he would be happy to make at least the top three. He finished fifth at state last year.
"It's my last chance, so I'm going to lay it all on the line this time," he said. "I'll be more calm about it now. The state jitters aren't like they are for some of the other guys. I know what has to be done. It's just a matter of executing it."
4x400-meter relay
This will be the second consecutive year Eudora has taken a 4x400-meter relay team. On the squad this year is Barr in the lead leg, Slavin on the second, Harris the third and Harris will hand the baton to Tyler to anchor.
"We'll have to run fast and turn left," Tyler said.
At regionals the boys posted 3:31.2 for third place. Their best time of the season of just over 3:28 broke the school record. The group plans to beat that time in Wichita.
"I'm thinking that state will have better competition and some extra adrenaline will be pumping," Tyler said.
In recent weeks, the Cardinals have finally settled down with the four guys they felt had the best chemistry. All season, Durkin has been striving to find the right combination for the relay. Barr debuted with the relay team at Wellsville's meet a few weeks ago and helped the group break the school record.
"Barr was a shock to me at first," Slavin said. "I didn't expect him to run the times he was running."
Barr has since remained a part of the group.
"He right up there and a part of the team," Slavin said. "I wouldn't have it any other way. All season it's just been a matter of chemistry and the puzzle pieces not wanting to fit. Now, we're looking pretty good."
Barr will be an exception in the group, as far as nerves go. The other three have been to state and know what to expect.
"I am really nervous," Barr said. "The other guys know what to expect. I guess I'll just go along for the ride with them. I think I'm ready after league. I'm pretty confident we'll do well. We seem to be settling into good times. I haven't choked yet."
Harris is confident the team will do well.
"If everybody has a good day we should be able to run at least a 3:25," Harris said.