Special teams 'take heart out' of opponents
Eudora High School football coach Aaron Barnett has stressed the importance of strong special teams play all season. On Tuesday night, the Cardinals were able to make some big plays that gave them an early edge over Basehor-Linwood in the bi-district championship game.
"Josh Bowser has returned the ball well for us all year and we made some big plays," Barnett said.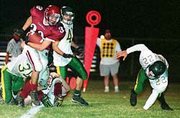 Bowser, who had two punt returns during the Cardinals 51-22 rout at Prairie View, scored on a 56 yard punt return in the first quarter that gave Eudora a 13-0 lead and some early momentum.
Senior Cody Lauber also scored on a special teams play when he recovered a fumble for a 21 yard touchdown, giving Eudora a 26-0 advantage. Lauber said scoring points on special teams plays a large role in the momentum of any game.
"If you get points besides offense, it helps a lot," Lauber said. "If you get quick points like that it takes the heart out of the team you are playing."
Senior kicker Tommy Shutt has also proven to be a reliable member of the Cardinals' special teams unit since taking over the position from senior running back/linebacker Zac Tyler at the middle of the season. While he rarely attempts a field goal in the Eudora fourth down running back offense, Shutt has connected on 13 of his last 14 extra points in the Cardinals' games against Mill Valley, Bishop Ward and Basehor-Linwood.
Lauber said special teams points will be crucial to the Cardinals success in the regional championship at Sabetha.
"We have to come out and play football the way we know how and everything will fall into place hopefully," Lauber said.