A real heartbreaker
One point puts Sabetha into semifinals, ends Cardinals' season
The Eudora High School football team learned the difficult, age-old lesson that football games are often decided by inches when it lost a 4A regional championship game at Sabetha 13-12 on Saturday night.
"They are a good football team and it is no accident that they are 11-0," EHS Coach Aaron Barnett said. "It is a 100-yard field but it comes down to inches every once in a while."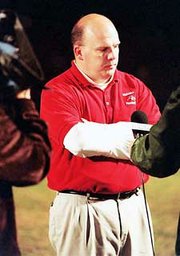 The Cardinals ran all over the field, gaining 352 yards to Sabetha's 169 yards, but could not put the ball in the end zone when they had opportunities in the red zone.
For the first time this season, the Cardinals stepped onto the field as an underdog when they played Big Seven champion Sabetha, a team that posted three shutouts and allowed a mere 15 points in its final two games. Eudora (9-2) could also brag about the strength of its first team defense, which rarely let an opponent score late in the season.
The Cardinals started off the game with momentum as junior running back Andrew Pyle, 42 rushes for 245 yards and one touchdown, brought Eudora close to the goal line. On the next Eudora drive, Pyle's running mate, senior Zac Tyler, seven rushes for 29 yards, fumbled in the end zone but senior offensive lineman Jason Lister recovered the ball for a touchdown and a 6-0 lead.
The Eudora defense was in top form on Saturday night, led by Tyler and junior Kaleb Niedens, with seven tackles each, and Shane Grant, six tackles. They handled the Blue Jays for the first three quarters of the game. The Cardinals managed the clock like they did during a tense 21-7 district victory against a Mill Valley defense that wouldn't let Eudora breathe easily until the fourth quarter.
Although the Cardinals entered the locker room with only a six point advantage at the break, senior lineman Tommy Stein said Eudora was confident the team was controlling the tempo of the game.
"At halftime, we felt we had the game in our control," Stein said. "We knew we were going to win the game even though it didn't work out that way. Just a couple of inches is all we needed."
Eudora held its 6-0 lead until the end of the third quarter when Sabetha junior Matt Pyle returned a punt 53 yards, and sophomore Micah Hall kicked the extra point to give Sabetha a 7-6 lead.
Eudora bounced right back when senior quarterback Ronnie Morelan found his favorite receiver, senior Brock Robson, a gain that put the football deep in Sabetha territory.
Barnett, who had enough confidence in his rushing attack to run the ball in critical fourth-down situations, made sure the ball was handed to Pyle on a fourth and six play. Pyle scored from 21 yards out on the play to give EHS a 12-7 fourth-quarter lead. In what proved to be one of the game's deciding plays, Morelan came up inches short on the crucial two-point conversion.
After forcing Sabetha to punt, Eudora appeared to be in control of the game and set for a Friday night date with defending 4A champion Fort Scott. A rare fumble by senior Zac Tyler that set Sabetha up at its own 30-yard line erased those pleasant thoughts. SHS junior quarterback Sam Keim found junior receiver Jarod Snyder for a 20-yard touchdown giving the Blue Jays a one-point lead.
Eudora had the time and will to make one last drive thanks largely to Pyle's determined running. The game was decided on a fourth and inches play from the Blue Jay 18-yard line. Morelan pitched the ball to Pyle, who gained 2,329 yards through 11 games, but came up inches short from extending the Cardinals' season. The Blue Jay defense stopped Pyle from gaining the most important yard of the season and gave Sabetha a regional championship victory for a game in which they were outplayed.
Senior lineman Matt Clark said several different factors could have provided a positive outcome for the Cardinals but he was glad to see fans make the long trip north to Sabetha.
"I thought it was great to see the town's spirit and it is appreciated by the players and coaches," Clark said. "We should have won. All we needed was one call by the referee, one less fumble, one more foot or one more block to set up the two-point conversion."
Barnett said that he was proud to coach this group of Cardinals and thanked the seniors who blossomed from young freshmen during his first year as the EHS coach in 1998.
"These seniors won more games in their four years than any in Eudora and they put up with me for four years, so my hat is off to them," Barnett said. "I told the underclassmen to get the taste (of the playoffs) back in their mouth because we'll be back next year."
More like this story