To this day, World War II veteran Pete Lawson still has a Japanese rifle he confiscated in the war.
"You couldn't do that today," he said.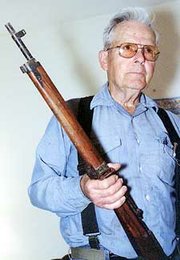 He made a box out of scrap wood, stuck his address on it and mailed it to his wife in Eudora.
"It came into the post office down here, and they said I had a box for my wife, and she thought she was getting some Chinese or Japanese dishes," Lawson said.
As veterans age and their wars recede further into history, the stories and memorabilia they brought back with them begin to take on significance as a way to pass down stories and experiences to younger generations.
Veterans are sharing their stories with students in a formal program called History in the Classroom, which encourages schools to invite veterans to talk about their military experiences.
"Right now we're encouraging the World War II veterans because we're getting ready to lose their history," said Jefferson Lawson, junior vice commander for the Department of Kansas Veterans of Foreign Wars.
Pete Lawson has another special memento from his time in the Navy when he guarded a Japanese ammunition dump for about four months before the Marines hauled it away.
"I wrote her (my wife) and told her that this war is going to be over soon, and they never cut that out," he said. "Other things they cut out that I sent home."
Little did Pete Lawson know how true his words would ring years later.
"Four days after she got the letter the atomic bomb dropped," he said. "The only thing I knew was security was so tight I knew it was something big."
Memories of the 17 months Pete Lawson spent in the Navy from 1944 to 1945 are most often shared with his Navy buddies at yearly reunions, which take place in a different city each year.
"We've been so close together we feel like family," he said. "When you depend on another person you get pretty tightly bonded and when they depend on you."
Pete Lawson didn't think his children had been the recipients of too many of his stories.
At the urging of his grandchildren, in July fellow World War II veteran and Eudoran Earl Kueser began writing his memoirs of the war in a spiral notebook. As of the end of September, Kueser was up to almost 90 handwritten pages.
Jefferson Lawson, a Vietnam veteran who served in the Marines, kept a journal of his entire time in the service.
"However, I lost it with a lot of pictures and other things," he said.
Keeping written documentation of the Vietnam experience was common, Jefferson Lawson said, although not all of the journals survived.
"I know quite a few destroyed them themselves for one reason or another," he said. "Most of it during the Vietnam era was because when they felt the betrayal by the U.S. government at the time, they got rid of everything."
Jim Hart, a Eudoran whose Korean veteran father lives in Florida, keeps his father's traditions alive mostly through music. His father's musical interests sparked Hart and his siblings to form the "Hart Family Band."
But some of his father's war traditions are kept alive, too. Even after suffering several strokes, Hart's father will still reminisce about the war.
"He can only talk for a while and gets real emotional," Hart said. "He would choke up when he remembers. He's got a heck of a memory to remember back 50 years."
Sharing war experiences isn't as easy for some veterans as it is for others. Jefferson Lawson said some find out about their spouse's war experiences only after their death through paperwork and other remnants since the veterans were reluctant to discuss details when they were alive.
"I had found through personal experience that once you do start talking about it, it sure does make things feel better," Jefferson Lawson said.
He encourages his reluctant friends to start talking about their experiences.
"The longer you hold it in, the longer it eats you up," Jefferson Lawson said.
Slowly, he's become able to laugh about some of his experiences in Vietnam. For many veterans, Jefferson Lawson said, only a small fraction of their experiences were negative.
"You can even find good times during the bad times," he said.
More like this story