Twelve seniors complete stellar run
Eudora High School Coach Aaron Barnett began molding a group of freshmen in the fall of 1998 during his first season at EHS. Three years later, the group boasted of a Frontier League Championship, two bi-district championships, a no. 4 ranking in the Kansas Class 4A poll, the first-ever school victory over Paola, and an 18-4 record.
"They were an excellent group of kids to work with," Barnett said. "I think they'll do good things in life. I hope their high school football career will help them in their life."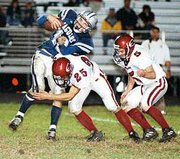 Barnett said this season was special because the team easily defeated its archrivals Baldwin and Wellsville on the road. He also counted the Cardinals' two-day victory over Louisburg, his first over the Wildcats, and the 40-16 playoff victory over Basehor-Linwood as highlights of the 2001 season. Barnett said he grew close to his first class of athletes because he was around them longer than any other group of kids. The seniors went 5-1 during their freshman campaign before holding a 4-2 record as a junior varsity unit their sophomore season.
"I've just been around them longer and I grew more attached to them," Barnett said. "They've all improved, maturity-wise and with their work ethic."
Lear Bowling
Bowling played two seasons of varsity football at the wide receiver and cornerback positions. He caught his first varsity touchdown pass in a 38-30 victory over Spring Hill.
"Football was some of the most fun I've ever had and it's too bad it had to end," Bowling said.
Bowling will play guard for the Cardinals basketball squad this winter and take centerfield on the baseball diamond next spring. Next fall, Bowling will head south to attend Texas A&M University where he will major in Environmental Design and join the fabled Corps of Cadets.
Josh Bowser
Bowser, also a wide receiver and a first-team Frontier League League cornerback during his junior year, made a name for himself on special teams. Bowser scored on three punt returns including two in a 51-22 victory at Prairie View. Bowser said that the All-League cornerback honor gave him confidence to shut down top Frontier League receivers.
"It meant a lot to me," Bowser said. "It gave me confidence knowing that's what I was last year." A versatile athlete, Bowser will compete in the long jump and the 4x100 and 4x400 relays for the Cardinal track team in the spring. Bowser is considering Johnson County Community College and he would like to pursue a career in firefighting.
Matt Clark
Clark was one of the Cardinals' linemen who played on offense and defense but did not receive much attention throughout his two seasons with the Cardinals. Clark, who is a member of almost every service-related club at EHS including National Honor Society, was pleased to see the town of Eudora rally together and make the trip up to Sabetha to watch the Cardinals play the undefeated Blue Jays down to the wire.
"I thought it was great to see the town's spirit and everything," Clark said. "It was appreciated by the players and the coaches." Clark will play center for the basketball team and first base for the baseball squad. He is considering attending Baker, Johnson County, Kansas or Kansas State next year.
Cody Lauber
Lauber, wide receiver and safety, often found himself on the receiving end of passes from senior quarterback Ronnie Morelan when the Cardinals decided to throw the ball. Lauber played three years of varsity football and serves as the Vice President of the Senior Class and Student Council President and a member of the National Honor Society. Lauber said he learned leadership through football and later pursued those roles in the classroom.
"It all started in seventh grade and we never lost more than three games in a season," Lauber said. "We didn't know what losing was so we tried not to do it."
Lauber, who is planning on attending college and majoring in computer science and education, will throw the javelin and run in the 4x100 relay for the track team this spring.
Jason Lister
Lister played on the offensive and defensive lines, blocking for star running backs Brian Harris and Andrew Pyle during his junior and senior years and creating havoc for opposing offenses on the other side. Although he was upset with the outcome in the playoffs, Lister thinks this year's team was better than last season's squad.
"We played hard but we came up short," Lister said. "We got a lot better in the off-season from last year to this year."
Lister, who wrestles in the 215 weight class for EHS, plans to attend either Kansas or Washburn, where he will study accounting.
Jason Marmon
Marmon was one of the Cardinals' most reliable lineman on both sides of the ball. He played on the varsity squad for three seasons, earning first team offense honors from the Lawrence Journal World and honorable mention All-State offense as a junior last season Marmon will attend college where he hopes to major in science or engineering.
Ronnie Morelan
Morelan, a three year member of the varsity squad, gave the run-oriented Cardinal team the option of passing the ball or running the option. The senior quarterback said the class of '02 came together for its final two seasons on the field.
"At the beginning of the year, I hadn't done much passing but I got more confident throwing the ball," Morelan said. "Our team came together the last two years and everyone was looking out for each other."
Morelan is considering DeVry, Johnson County, Kansas University and Westwood (Colorado). Although football is his favorite sport, Morelan said he is considering playing baseball as a pitcher or a catcher at the next level.
Brock Robson
Robson, a two-year member of the varsity squad, became one Morelan's favorite receiving targets late in the season as he caught three passes for 40 yards in the 13-12 loss at Sabetha.
Robson also gained confidence at the safety position, picking up several passes toward the end of the season.
"Our coaches really worked on quite a bit of catching and mine really improved," Robson said. "I didn't pursue (on defense) very well at the beginning of the year but coach helped me with that and I feel like I did a better job."
Robson, a left fielder, is hoping to play baseball at Allen County Community College in Iola next year.
Tommy Shutt
Shutt made his debut on the varsity squad during his senior season and made an impact for the Cardinals. He was a key member of the defensive unit as a linebacker and a reliable extra point kicker, including several perfect games, after replacing fellow senior Zac Tyler. Shutt also got his chance to rack up yards and give junior Andrew Pyle and Tyler a break from the action. Shutt plans on attending college next fall.
Tommy Stein
Stein was a vocal part of the offensive and defensive lines during his third season on the Cardinal varsity squad. Stein said that he enjoyed learning the game of football from Coach Barnett.
"Playing for him was a pleasure," Stein said. "In my opinion, he is the best high school coach in the state of Kansas and it was an honor playing for him. As long as Coach Barnett is at Eudora, I don't think they'll fall to a mediocre team."
Stein, a National Honor Society member, is also part of SADD and the Drama Club among many other EHS service groups. He will play center for the EHS basketball team this winter and then try a new sport by joining the Topeka Rowing Club this spring. Stein will attend a four year university next fall.
Dustin Stewart
Stewart, another key member of the line that opened up holes for Cardinal running backs the last two years, said he learned a great deal about work ethic from the Cardinal coaching staff.
"I learned to always give it your all and no matter the circumstances to play at your highest level," Stewart said.
A first baseman on the Cardinal baseball squad, Stewart will return to his native Texas next fall. Stewart will attend the University of Texas at Austin and major in physical therapy.
Zac Tyler
Tyler, a three-year starter at linebacker for the Cardinals, was the heart and soul of the defense for Eudora. As a junior, Tyler was named all-Frontier League linebacker, All-State honorable mention and Journal World all-area team. Tyler, who also plays basketball and runs relay events for the Cardinals, got his chance to shine on the offensive side of the ball, playing fullback and enjoying a three-touchdown game in a 37-0 victory over archrival Wellsville. Tyler would like to continue his football career at Emporia State, Pittsburg State or possibly even Kansas University.
"Every game was my favorite moment-all of it combined," Tyler said. "Next year, Eudora is going to have a good shot at making it just as far or further."