Pilgrims' progress
Students end pilgrim unit with a blast
Maybe this is what the first Thanksgiving would have looked like if third-graders were running the program.
Several classes at Nottingham Elementary School celebrated the ending learning units on pilgrims and Native Americans with feasts and games Nov. 16.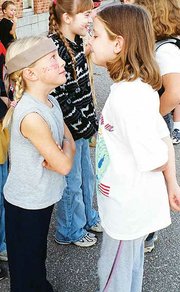 The feast consisted of concoctions the students prepared themselves the more-traditional pumpkin custard and cranberry sauce, and a trail mix of M&Ms, pretzels, cereal and other third-grade favorites that would probably leave the pilgrims scratching their heads.
Amanda Hadl, who also counts spaghetti and macaroni and cheese among her specialties, enjoyed the cooking process.
"It's fun to try out new stuff," she said.
Tell that to Tyler Miller, who wasn't too impressed with the pumpkin custard judging by his twisted mouth and scrunched up nose after trying the dessert.
The kids also participated in games while wearing Native American and pilgrim clothing, some of which consisted of construction paper, an elementary school staple.
One Native American game had the students doing what they do best acting like kids. The goal had one group of children trying to make the other group laugh by employing the weapons of goofy movements, a stuck-out tongue and a finely-timed maniacal laugh.
"In class, they can make anybody laugh, but not when they're told to do it," said former Nottingham teacher Greg Basgall, who came back as a guest pilgrim, dressed head-to-toe in a black and white costume.
The students also tried out traditional games, like races involving rolling a wooden hoop along the ground with a stick, and "hunting" deer for the feast by hurling bean bags and trying to get them to land in wooden magazine rack-like containers in the shape of deer.
The students really go to see what being a pilgrim was like through simulations of the Mayflower, building houses and making peace treaties with Native Americans that taught them the amount of cooperation necessary to survive.
Teachers Ruth Hughs and Vicky Hofer visited Plymouth Plantation in Massachusetts to get some inspiration.
"We really get immersed in this," Hughs said.