Wrestling team rebuilds after losing seniors
The big guys will have to pull their weight for their smaller teammates on this season's 2001-02 Eudora High School wrestling team.
After losing six seniors from an 11-2, Frontier League second place team, Coach Ron Abel said he will look to three of his heavyweights to lead the group. Senior Jason Marmon is ranked first in the state in the 215-pound class while junior Shane Grant is number four in 275 pounds. Junior Michael Paxton adds depth in the 189-pound division.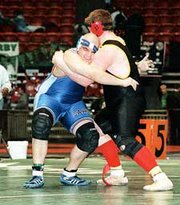 Seniors Matt Linzer, 119 lbs., and Nate Cleveland, 140 lbs., and juniors Luke Powers, 145 lbs., and James Barr, 160 lbs., and sophomore Mark Lister, 130 lbs., will also add depth to the Cardinals roster.
"Our upper-weight wrestlers have to be successful because we are very young and inexperienced at the lower weights," Abel said. "The (upper-weight) kids will carry us until we get the experience we need."
Eudora will throw itself right into the fire as the team will compete at the 10-team Atchison County Community High School tournament on Dec. 1. The tournament will include host ACCHS, the defending 3A state champion, Basehor-Linwood, Free State, Pleasant Ridge, Horton and Oskaloosa.
"This will be a very tough tournament but it is a good tournament to start the season," Abel said.
Later in the season, the Cardinals will face defending 5A and Frontier League Champion Paola as well as solid Baldwin and Spring Hill teams. They will also compete in the Basehor-Linwood tournament in January.