Boone on the run, on the side
None of the runners on the Eudora High School cross-country squad can accuse Coach Paul Boone of asking them to run more than he does.
Boone, the second year head coach of the EHS Cross-Country team and the coach of the Eudora Middle School outdoor track team, has participated in four marathons and finished near the front in two of them. Boone ran the Kansas City Marathon in 1991 and 1994, placing 18th out of 2,100 runners in '91. In 1992, Boone traveled to the Dallas Marathon where he finished 44th out of 3,700 runners. He also competed at the Boston Marathon in 1992 but did not place as well as he wanted because of an injury.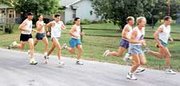 "I built my mileage up to 83 miles a week and I had several workouts," Boone said. "You need to get your mileage in six weeks before."
Although Boone has not raced in a marathon since 1994, he is planning on making a return to the Dallas marathon in the near future, his favorite race of the three. He will race in a half-marathon in Topeka at the end of January to begin the comeback. Boone currently trains with a Lawrence-based running group called the Sandrats, some of whom raced at the CPA Fun Run in July. Boone said most of his training has taught him how to run marathons effectively.
"You develop a sense of pace when you go into a marathon and it's important that you don't get out too fast and that you stay with the strategy," Boone said. "When you run those long runs, you train pretty hard."
Boone said racing at Boston was a great experience because of the attention the race receives and the fact that it was Boston Marathon legend Johnny Kelley's 63rd and final Boston Marathon.
"It was a great emotional burst and it made you think about the significance of things you do 63 times in life," Boone said. "Boston is a great course and it is an incredible experience with it being a holiday up there."
Boone, a native of Quinter, about an hour west of Hays, competed in the half-mile, two mile, high jump and high hurdles for 1A Quinter High School. He ran cross country for William Jewell College in Liberty, Mo. during the fall of 1983 and played soccer at Bethel College in North Newton, Kan. for two seasons.
While Boone does not encourage his cross country runners do race extremely long races, he said that the 1996 state championship team ran some half-marathon distances while Boone was an assistant under former cross country coach and current EHS track coach Dave Durkin. Boone also has his friends from the Sandrats run with the current Cardinal squad.
James Barr, a junior member of the EHS cross country team said Boone's work ethic and ability to run in marathon has impressed the team.
"Coach Boone is a pretty smart runner and he's pretty serious about it," Barr said. "It's pretty impressive that he can run 26 miles."