Common thread
Quilters get work done in bits and pieces
It wasn't just the customers filling Quilting Bits and Pieces, Eudora's sewing store, last Friday morning. A back section of the store buzzed with activity from the Quilting Bees of the local quilting guild as they prepared for the quilt show at EudoraFest Saturday.
The work day brought out a handful of members who trimmed quilt blocks' edges with what looked like a miniature pizza cutter, pieced squares together or worked on sewing machines to finish a quilt to be raffled off at next year's EudoraFest. But this group of eager stitchers wanted to give quilt lovers a preview this year.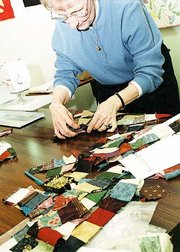 "We want the thing as much finished as we can because we want to show it at the quilt show," said member JoAnn Rodgers. "Most of the blocks we're working on now are by hand."
While the blocks of next year's quilt were scattered around the work area, Saturday's raffle quilt lay draped in a display. The guild started on the quilt after last fall's show, and each of the guild's 30 or so members had to make at least one 6-inch and one 12-inch block.
The design incorporates celestial themes dark blue and gold fabrics with images of stars and moons.
The guild got the idea from a swap they'd done where quilters add to blocks and pass them around.
"It's all hand-quilted," Rodgers said. "I've seem some (quilts) in Pennsylvania from $900 to $3,000."
Rodgers said she started quilting in the past six years but this year marks her second year in the guild.
"Some of them are really talented," she said. "I feel totally like a newbie, but it's very relaxing."
On their own time, guild members like Kaye Spitzli had also been working on small, decorative quilts for a silent auction. Spitzli said Friday hers was half-appliqued at that point.
"I figure I'll finish it next week," she said, smiling. "We've sewn the binding on the night before."
Spitzli's pulled out her decorative wall-display quilt for the auction, a manger scene.
"I was hoping with Christmas coming that this would get people interested," she said. "They kind of life these things."
The guild members also planned to bring quilts from home to display but not sell at the auction.
"You can't hang the same ones over and over," Rodgers said, adding that members must bring a new quilt each show.
On the wall of the store hung such a work-in-progress.
"That's my block of the year," Spitzli said, pointing to a block of burgundy-toned fabrics. "Eventually it will grow up."
For anyone who had doubts, Rodgers reaffirmed the skill required for the craft.
"Quilting is an art," she said.