A celebration of heritage
EudoraFest offers a feast for the senses
A hum of EudoraFest activity filled downtown Eudora Saturday as people milled about vendor's booths, food stands and musical performances along Main Street.
Through the blocked-off street echoed the songs of various musicians, punctuated during breaks by the sound of Ronald West's chainsaw. The area artist transported a stump of wood to the park. After securing it in the ground, West fired away with a chainsaw to reveal the image of a bear from the wood. In front of the work-in-progress stood a painted wood sculpture of a Native American West also transported to EudoraFest.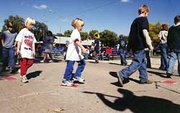 With Day-Glo orange earplugs still intact, West talked about the art he brought to the festival for demonstrations.
"It's hard to control a chainsaw," he said, adding that smaller tools help him to add detail work to the sculptures.
At EudoraFest, the stump of wood revealed a snout and ears, giving away the possibility it might become a bear.
"Either that or a pile of sawdust," joked West, who began sculpting last year.
Although he wouldn't have time to finish the sculpture at EudoraFest, the event did give participants time to peruse the Eudora Area Historical Society's demonstrations of trades long gone.
"Mountain Man" Joe Johnston laid various pelts and animal skins on a table in front of a tent he constructed himself. Nearby lay replica antique firearms. Hatchets and knives of various shapes and sizes filled a blanket on the ground.
Inside another tent Patty Johnston presented some of the society's artifacts, including an old photograph album, Fern Long's mid-1800s quilt and a contraption used by Kazmaier's store to keep track of customer's charges, still bearing the customer's names.
Along with memorabilia from various wars, Johnston also displayed metal cookie cutters and other common household items.
"I bring these to represent the pre-plastic days," she said. "People used to really have time to bake."
Outside, Steve Neis and others took turns churning a glass jar of butter by cranking the contraption by hand.
"Everyone's been taking their turn slowly," Johnston said, looking at the soon-to-be butter, now just a soupy, yellow liquid.
As Long cross-stitched a quilt, Martha Harris spun wool into yarn on a modern spinning wheel.
Harris said that as children came up to the demonstration she would snip off a piece of wool for them to take. Spinning wool is more than just a demonstration for the historical society it's part of Harris' hobby.
"I like to knit, and this is a great way to get yarn," she said.
Across the street at Eudora Middle School, a hobby of a different kind was on display as the Eudora Quilting Bees Guild ran a quilt show.
Marge Coleman sold tickets for next year's quilt for raffle while sitting next to what already existed of the quilt.
Quilts of various designs and themes lined the walls of the gymnasium. Some dated to the 1970s while another dated to the beginning of that century. A Halloween-theme quilt, called "Scaredy Cats," featured appliqued cats with arched backs in orange and black material.
Several quilts featured photographs of weddings and family transferred to cloth. Some quilts were made in honor of fathers, and others in honor of children and grandchildren. A few of the silent auction quilts paid homage to Kansas universities.
At the other end of Main Street, classic and show cars lined storefronts. A 1957 Chevrolet pickup truck shared the street with a 1965 Corvette. With hoods propped up and windows rolled down, passers-by could admire the clean interiors and grime-free engines.
Strolling back toward CPA Park, visitors passed booths of homemade baked goods, locally made preserves and honey as well as jewelry booths, used books and woodwork.
Walking away from EudoraFest, the sounds from the music, like Alan Cunningham singing children's songs about bumblebees and burps, carried over downtown side streets.