Cards play the passing game
Ask Frontier League coaches to describe Eudora's offense, and their first three words might be "Run, run, run."
With running back Brian Harris' success and current running back and Frontier League leading rusher Andrew Pyle, Eudora increased its reputation on the ground. Opponents halting the Eudora running game are finding out about the team's other dimension the passing game.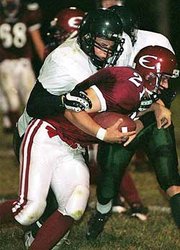 "As the year goes on, teams will put eight or nine people to stop the running attack," Eudora Coach Aaron Barnett said. "When they give us the pass, we have to execute it."
Senior Ronnie Morelan, a battle-tested quarterback who played on the 2000 playoff team, and three senior receivers, Josh Bowser, Lear Bowling and Cody Lauber, have delivered when asked by their coach.
Morelan, who rarely attempts over 10 passes per game, said he doesn't mind being the second option in a run-oriented offense. After making important passes leading to Pyle touchdowns and 16-yard passing touchdown of his own, Morelan compared the work ethics of the current and past teams.
"The seniors last year were the hardest working class in our school's history," Morelan said. "John Powers and Brian Harris didn't miss a day of weightlifting. Our intensity is lower than (last year's) team, but I think Coach is taking care of that this week."
Morelan said playing alongside Pyle and Harris is similar, and he admires each running back's style.
"I see them as the same running back," Morelan said. "They both bounce off guys, they are small and quick and they are good leaders. I enjoy playing with them both."
Lauber said the team is gaining more confidence in its passing game, but the receivers acknowledge the first option is to run the ball.
"We're not really a throwing team," Lauber said. "Our receivers have gotten better throughout the year, and Ronnie is throwing the ball well."
Lauber said the Cardinals will need to play a strong game Friday night at De Soto against Mill Valley for a return trip to the Class 4A playoffs.
"I think we'll respond in a good way," Lauber said. "If we lose to Mill Valley, we probably won't go to the playoffs because they will probably beat De Soto. Losing isn't an option on Friday."
More like this story