Leader of the pack
Business owner earns rank of Scoutmaster
Even though he earned his way to Eagle Scout, Bryan Chumbley just couldn't get enough of scouting.
Working with his two sons in their scouting endeavors have sent him to the rank of Scoutmaster where Chumbley will work with Cub Scouts ranging from first graders to sixth graders.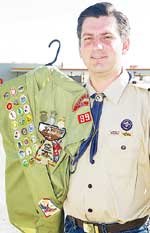 Honor and patriotism have affected Chumbley's life and made him a believer in the scouting way of life.
"I've always lived by the scout law 'On my honor,' 'God and country'" he said. "I've had more memories of scouts than anything during my grade school and high school years."
Chumbley can recite statistics showing scouts often perform better in school, are more involved in extracurricular activities and have better-paying jobs than their non-scouting peers. He also backs up the statistics with tales from his own life involvement in sports and clubs in high school, graduating college from Missouri Western, and running a business, the C&S Market.
Scouting impresses employers, too, he said.
"When you're an Eagle Scout, they looked at that more than my college credentials," Chumbley said. "You worked hard, and you stuck with it."
The discipline and patriotism he learned in scouts carried over when he served in the Gulf War with the Forbes Field 190th air-refueling group.
Although controversy about excluding gays from scouts has bubbled up around the country, the issue hasn't hit home in Eudora, he said.
Scouting runs deep in the Chumbley family. As an adult, Bryan Chumbley served as a den leader for four years. Sons Zachary, 8, and John, 9, are both in Cub Scouts, and Ross, 5, will be eligible to join in two years.
"To me, they're only kids once," Chumbley said. "If you miss a big part of them growing, it's over."
Chumbley's wife, Julia, serves as a treasurer for the committee, and he said she'd be a great asset to the time he'll put in organizing the scouting activities that run all year. Den meetings last about an hour, once a week. Pack meetings take place monthly. In between are the promotion ceremonies, pinewood derby, fund raising and campouts, like the one organized by Eudora scouts at the end of the month in Baldwin City.
Boys interested in scouting can join anytime, he said, if they contact him or their school.
The length of Chumbley's stint as scoutmaster is uncertain.
"It could be a year, maybe four or five," he said. "Maybe until my (son) Ross gets through."