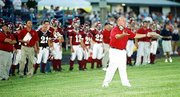 Yellow flags rained on Laws Field for the Eudora and Paola High School football teams Friday, but it was the Panthers who departed without permanent harm from the penalties.
"We made mistakes and poor decisions like hits after the whistle," EHS Coach Aaron Barnett said. "You are going to have trouble winning football games with that many penalties."
EHS committed 11 penalties for 80 yards and had two turnovers in the 24-20 opening game loss that will keep the Cardinals from controlling their own destiny in the 2001 Frontier League title defense. Eudora will face Louisburg (1-0) at 7 p.m. Friday at Laws Field. The Wildcats defeated Wellsville 41-15 in Louisburg Friday night.
"A lot of good things happened in the second half and we hope to build on those," Barnett said. "It's a long race and I'd rather lose the first game than the ninth game. Everything that we messed up on is very correctable. We beat ourselves but they capitalized on it."
The Louisburg Wildcats return only six seniors from a 5-4 team that defeated Eudora 28-0 in the Cardinals' lone Frontier League loss. LHS Coach Kris Kehl (51-14) began his seventh season last week with the Wildcats and is coming off his worst record since his 5-4 debut in 1995. In 1997, Kehl led the program to a 12-1 record and a 4A state championship berth against Sabetha. The bread and butter of this year's Wildcats are senior quarterback Brian Johns and junior fullback/linebacker Nick Skuban. The versatile Johns was 8-11 with 152 yards throwing and also rushed for 119 yards on 20 carries against Wellsville. Skuban carried the ball 10 times for 46 yards and one touchdown.
Barnett said the Cardinals will be prepared for the always dangerous Wildcats team.
"They are a very well-coached team," Barnett said. "We need to cut down on turnovers and penalties and come out with intensity for four quarters not just two."
Kehl said that he hopes his young team can build on its mistakes from the season opener against Wellsville.
"We have new faces on both sides of the ball," Kehl said. "I think if we play the way we did against Wellsville, Eudora is good enough to beat us. We threw an interception, fumbled and missed assignments."
Last Friday, EHS fell behind in the first half as Paola senior quarterback David Ward connected with senior running back Dustin Walters for a 24-yard pass and scored on a four-yard keeper for an early 14-0 lead that silenced the Cardinal faithful. Junior linebacker Tyler Jackson's interception gave the Cardinals senior quarterback Ronnie Morelan, who threw for 5-for-7 and 50 yards, good field position. Morelan connected with Jackson for a 26-yard pass before scoring the Cardinals' first touchdown of the season on a one-yard rush.
The Cardinals faced a couple of serious setbacks in the second quarter when Paola senior linebacker Michael Dameron scored on an 85-yard interception and the Panthers blocked senior Cody Lauber's punt deep in Eudora territory. The Eudora base defense held Paola to a field goal as the Cardinals entered the halftime break with a 24-7 deficit. Barnett was impressed with the defense's late second quarter and second half effort that kept EHS in the game.
"That was a big stand in the second quarter because it is hard to come back from 28-7," Barnett said. "The defense stepped up in the second half but we just dug ourselves a hole. We didn't lose that game because of effort."
The game featured the emergence of running backs junior Andrew Pyle, 22 rushes for 200 yards and one touchdown, and senior Zac Tyler, 7 rushes for 34 yards and one touchdown. Tyler, who also led the defensive stand as a linebacker, debuted as the Cardinals' kicker. Tyler was 2- for-3 on extra points Friday night.
More like this story