Flying high
Norma Heaberlin's uncle "Doggie" Kline stops by for a visit in his replica World War I plane
His leather bomber jacket tossed on the floor, Forrest "Doggie" Kline sits in a rocking chair sipping coffee at the Eudora home of his niece Norma Heaberlin and her husband, Bill.
Coffee is what gets him going in the morning, he said, but Kline goes farther than most for his daily cup of brew.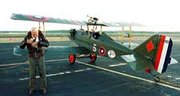 He flies his World War I replica plane from his home in Rimrock, Ariz., to Sedona nearly every morning to meet his friends for coffee.
"That gets you away from watching television," Kline said.
Kline visited the Heaberlins in Eudora while en route from an air show in Iowa back to his home in Arizona. Making the trek in a replica SE-5 takes stamina, patience and an ability to withstand cold temperatures.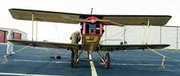 When Kline left from the airport in Lawrence at sunrise Monday morning, the first leg of his journey would take him no farther than Newton since the plane needs refueling about every two hours. Also, he can't go any faster than about 90 miles per hour.
The tiny, open cockpit doesn't allow for much wiggling around. Kline demonstrated the extent of his movements by opening and closing his legs about five inches at a time.
Even in the warmth of Arizona, flying thousands of feet in the air mean cold conditions that force Kline to wear layer upon layer of clothing.
"It's like sitting in ice water up to your neck," he said. "It's like sitting in a tub of cold water to see how much you can stand."
Even though the plane can't go as high as the modern planes lined up on the tarmac, Kline isn't bothered because he likes to see the landscape as he flies.
Although he has a replica World War I uniform, when Kline flew Monday he wore a flight suit emblazoned with patches, including the American flag, his nickname, "Doggie," and a patch of the American 25th execution squadron, the only American regiment to fly the plane during the war.
The somewhat-out-of-place patch on the far right reads "Geritol Squadron," something the 84-year-old pilot and friends added for fun with permission from the company.
"They thought it was good, free advertising," Kline said.
As he prepared to take off, Kline covered his suit and patches with the leather bomber jacket. He added a white scarf, hat and goggles to the ensemble. Although the plane doesn't have much room, Kline said he always brought three days worth of socks and underwear and a bottle of whiskey.
He also attached a device that allows him to navigate with the help of a satellite. Before he had the device, Kline would sometimes have to swoop down low enough to read water towers or road signs.
Despite the complexities of flying, Kline insists it's easier than driving.
"I've failed my driver's test twice," he said. "I've never failed a flight test."
Kline also plays down the year and a half he spent building the plane at home, where he has a landing strip, hangar and workshop. He built the plane 10 years ago for about $15,000.
"It's just like a model airplane, but longer sticks and more glue," he said.
Kline decided to build a World War I replica plane because when he was younger the World War I planes were the ones he and his classmates learned about. The SE-5 was the best plane of the era, Kline said.
He got firsthand experience with war planes in World War II and Korea for the Navy. In World War II, Kline said, he was on two shipwrecks, was shot once, and wrecked three airplanes.
His time spent in the military earned him the nickname "Doggie."
"I flew airplanes in the Navy and drank whiskey and ran with loose women," Kline said. "They said, 'Don't run with him. He's a dog. He'll get you arrested.'"
That hasn't stopped him from flying across the country to participate in air shows, like the one he attended in Iowa. Although he flies his plane in some of the air shows, in others he just puts his plane on display. Once, Kline said, his photograph was taken 150 times in one day.
"I like the displays best because I can just stand by my plane in my World War I uniform and talk to all the pretty ladies that come by," he said.
When he starts the plane, Kline has to throw down the propeller by hand and then crawl into the tiny cockpit.
"It seems to me the airplane gets farther off the ground each time," he said.
Still, Kline has no plans of quitting.
"I'm not smart enough to do anything else," he said, chuckling.
More like this story