In the wake of attack
Vigil unites Eudorans recovering from terror
At a prayer vigil Tuesday night the Rev. Waylon Ingle told about 125 people he'd felt a terrible feeling in the pit of his stomach four times in his life. Once when President John F. Kennedy was shot, then when he landed in Saigon as a soldier in the Vietnam War, again when his son went to war in Saudi Arabia, and Sept. 11 when the United States experienced what many consider to be the worst terrorist attacks in the country's history.
Two hijacked planes crashed into New York City's World Trade Center towers, which crumbled from the attack. Another hijacked plane crashed into the Pentagon, and yet another crashed in Pennsylvania.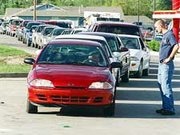 The Eudora Ministerial Alliance made plans for the vigil as soon as local pastors heard the news. Several pastors took turns speaking and leading the community in prayer at the high school auditorium, ending the ceremony in candlelight, singing "God Bless America."
"The unthinkable and the incomprehensible have happened today, and it happened on American soil," said Mayor Ron Conner as he spoke at the vigil.
Diners at the Pinecrest II clubroom ate in almost entire silence as they watched a Kansas City news program for updates on the day's events.
Radio and television commentators compared the terrorist attacks to the Japanese attack on Pearl Harbor in 1941 because of the unexpected nature of both incidents.
"All my people weren't saying very much," said senior meal program coordinator Carol Mason. "They're still in shock."
The Eudora School District cancelled extracurricular events scheduled for Tuesday afternoon and evening. Activities director Larry McPherson sent an e-mail to notify staff about cancellations about 1 p.m.
"Respect would be a good word for it," he said, explaining the cancellations. "It just seems appropriate. We felt it was the right thing to do."
Superintendent Marty Kobza said Eudora Schools were in low-level lockdowns, meaning the buildings' exterior doors were locked, but students could go outside with supervision. He said law enforcement would be doing extra patrols.
"Not that we're concerned about being a site for a terrorist attack," Kobza said. "We're concerned about ancillary action. For instance, if we have someone who isn't very stable in our community who sees these events and decides that's the thing to do."
Eudora West Elementary School Principal Rod Moyer said the school had a television on in the faculty workroom and radios were on throughout the building, but teachers didn't have students watching coverage in classrooms.
"At this age, we're kind of sensitive," Moyer said. "I did go and talk to all the kids. I explained that we're totally safe, that everything's in place. We're taking every precaution."
Eudora Middle School tried to keep the school day as normal as possible, Principal Don Grosdidier said.
"As kids ask questions and talk about things, teachers will discuss things with them and reassure them that things will be OK," Grosdidier said.
It was business as usual at Douglas County Emergency Management, said Emergency Manager Paula Phillips.
"We're monitoring the situation," she said. "We're maintaining contact with law enforcement agencies in the state. We're very aware of the situation."
For area gas stations, however, business was highly unusual. LaDonna Lickteig found herself below a quarter of tank coming home from Missouri. She stopped at Casey's about 4:30 p.m. and found gas at about $3 per gallon.
The attacks caused gas prices to soar in some areas. While rumors of the high prices proliferated, drivers in queue past C&S Market for the Kwik Shop's still-normal prices.
"There were long lines," Lickteig said.