Attacks cause athletes, spectators to look at game in different light
It was supposed to be just another game against traditional rival Wellsville High School that would begin with the routine playing of the national anthem.
But terrorist attacks in New York and Washington D.C. three days before last Friday's game made the routine impossible. The evening started with coaches and athletes from both teams observing a moment of silence and listening to an emotionally meaningful rendition of the national anthem.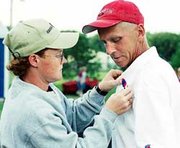 While weekend major collegiate sports and all professional games were canceled, Kansas high schools played on, providing relief from the horrible images on the television and in the newspapers.
"I think it was a good decision," Eudora resident Larry Powers said. "Life has got to go on and you can't sit around worrying all the time."
Fellow Eudora resident Ginger Griesmer said that the game offered a welcome diversion if only for a few hours.
"I think it's important that they played," Griesmer said. "It gets people's minds off things."
Several Eudora High School teachers took advantage of the game to raise money for the Red Cross with a barbecue near one of the end zones at Wellsville's field.
Students contributed fund-raising efforts of their own. With the efforts of nearly the entire student body, the Eudora High School community was able to raise $1,089.08 as of Wednesday for the American Red Cross. With ribbon donated from Hallmark, more ribbons will be sold at Friday's home game.
Students Against Destructive Decisions sponsor Cara Kimberlin and Future Business Leaders of America sponsor Jane Clinton handed out red,white and blue ribbons with the tragedy victims' names. Quilting Bits and Pieces donated materials to make the ribbons.
"We have to try to get back to a little normalcy but at the same time it helps remind us," Kimberlin said. "The thing that got me the most was all of the family members looking for those missing."
At Eudora elementary schools, Monica Hoese took a different approach to spreading red, white and blue by conducting projects in her daughter Elizabeth's fifth-grade classroom and daughter Stephanie's third-grade classroom.
The students made construction paper flags and wrote letters on the back. Monica Hoese gave suggestions on how people could help and reported that letters with words of encouragement could be sent to school children in New York.
"I just thought it was a nice thing to do," she said.
The Eudora Parent-Teacher Organization has a donation drive at all schools. The organization installed bins where students and staff can drop off supplies like shampoo, deodorant, bar soap, work gloves and large bandages to relief workers in New York and Washington.
The organization has also rounded up 1,000 biodegradable balloons for football patrons to release at Friday's game.
EHS principal Dale Sample praised the efforts of the memorial fund-raiser's organizers, the student body and office aides. Sample said it was an important step in the healing process to play the football game on Friday night.
"The kids from all of the clubs worked on (the project) and the office aides helped throughout the day," Sample said. "The (Frontier) League never talked about not playing. We wanted to get back to as much normalcy as possible."
The tragedy was especially close to home for EHS football Coach Aaron Barnett, whose brother, Art, was on his way to work at an adjacent building to the towers when the attack began. Luckily, Art phoned his parents and told them that he was ok.
"I was talking to (Wellsville) Coach (Bill) Oshel before the game," Barnett said. " I've had kids whose parents passed away during the season and almost everything else but you don't ever think about a national tragedy happening. It puts a different perspective on it."
EHS athletes said that running on a race course or playing on the football field also helped them cope with the tragic events.
Freshman William Steel, a member of the junior varsity cross-country squad, said Thursday's race at Wellsville allowed him to take his mind off the event during the race.
"While we were going down there it was on our mind but when we got down there we focused on the race," Steel said. "But once we were done with the race we went back to focusing on the crisis."
Senior tailback Zac Tyler said the game proved to be a good way to relieve the stress of the crisis through football.
"Football was our way to take our minds off of it," Tyler said. "People had other things on their mind but they still came out and supported us."