Reclining on his quilted bed, a small notebook peeks out of the pocket of his plaid shirt. Not far out of a reach is a larger red spiral notebook where Eudora Nursing Center resident Earl Kueser has begun jotting down his memories of World War II.
Kueser began writing his memoirs around the Fourth of July after his granddaughters pestered him to document his experiences for posterity. He said a video camera or tape recorder were out of the question.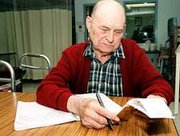 "It's to keep 'em off my back," he said. "It's been more of a job than I anticipated."
Kueser said writing an hour or two in the morning and again in the afternoon hasn't taken him even halfway through his experiences. Now at page 85, Kueser said he's nowhere near done.
"By the time I'm done, I'll have quite a few," the Garnett native said.
Kueser began the notebook with landing in Italy. He was originally part of the Army's 6th Armored Division, but the group was split into smaller units. Kueser ended up as part of a makeshift outfit that served as a support group.
"The only time we got rest was when we were getting ready to ship out," he said.
Inside the red spiral notebook is Kueser's measured handwriting, the penmanship of a different era of schooling. He begins by writing on only one side of the page. As more details and stories come back to him, he adds them on the other side.
"I think about things I totally forgot about," he said.
One particularly memorable story that came back to him during the writing process took place in Italy:
"When we were at Angio there was a guy who seemed to be a super soldier, but he'd always work alone. He'd be gone for two days at a time. They'd send a patrol out to look for him. He always wore a knit cap. They found it, bloody. A couple officers found him. He turned out to be a German captain. He was supposedly going out getting information for us. I though he was awfully inquisitive about how we operated. I though it was odd a sergeant would be that inquisitive."
For a man who never was much of a writer, documenting his stories on paper has become a hobby and a motivator in his life. Writing breaks the monotony of day-to-day life, as do occasional trips to Kansas City, Mo., casinos with a friend.
"I worked jigsaw puzzles when I came in here," he said. "I quit that."
As Kueser talked about his project last Friday, the television in his room projected pictures of rubble caused by terrorist attacks in New York, Washington, D.C., and in rural Pennsylvania. Many compared the incident to the Japanese attack on Pearl Harbor, which drew the United States into the war that fueled Kueser's memoirs.
"I suppose you could make that comparison," he said. "But this is a lot worse."
A week later, the number of dead and missing topped 5,400.
Looking at the rubble, Kueser said, reminded him of bombed-out German cities he saw during World War II.
Kueser's service took him from Italy to the south of France, after which Kueser, the grandson of a German teacher, crossed the Rhine into Germany.
In all, Kueser spent five years in the service, and looking back he said he wishes he'd have stayed longer. He was offered a job as a recruitment officer in Wichita, and Kueser said he could have earned his way up the ranks, allowing him to retire early with a hefty pension.
"I just looked forward to the day I was going to get out," he said.
When he left the service, Kueser spent a couple years doing odd jobs until he began working at the Farmland plant in Lawrence in the early 1950s while settling in Eudora. Having dabbled in the stock market, Kueser thought he could retire comfortably at one point.
"About three years later I was broke, and I had to go back to work," he said.
In the meantime, he raised his daughter, Betty Tyler, now of De Soto. Tyler's daughters may have pulled him into writing, but Tyler seems pretty pleased with her father as well.
"When he started he said, 'My penmanship is getting better,'" Tyler said.
She praised her father's military service as well as his intelligence. He's a very smart man, she said.
"I'm not just someone who's proud about my dad," Tyler said. "I'm just telling you like it is."
Although Kueser's granddaughters would like to turn his memoirs into a book, Kueser said he doesn't care what they do with them when he's done.
"I suppose they'll get a kick out of reading it in later years," he said.