Lions Club blood drive can help alleviate donation shortage
Eligible Eudora donors will have an opportunity to ease the area blood shortage when the Eudora Lions Club sponsors a Community Blood Center drive from 2 to 6 p.m. Monday at Eudora United Methodist Church, Seventh and Church streets.
The center usually operates with about a five-day blood supply but is now down to a two-day supply. Recruitment representative Amanda Storm said a supply is considered about 550 pints coming in per day, but most of those pints are collected at mobile units and average out through the year.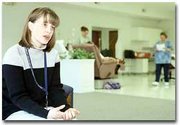 The supply also takes into consideration how many of each blood type the center has available. If they have many pints but run short on more common blood types it doesn't do them a lot of good, Storm said.
Blood shortages happen periodically throughout the year, she said, and this January has its unique reasons.
The outpouring of donations after Sept. 11 meant about 2,700 first-time donors showed up at the center in Lawrence. Because the center couldn't handle the number of donors, which at one time included 300 in one day, Storm said the center put them on a list and asked them to come back in a few months, but many didn't.
She emphasized the need for blood donations before emergencies, not after.
"It takes time for it to be processed and transported," she said.
Requirements to give blood include being 17 years or older and weighing at least 110 pounds, not having tattooing or piercing with a needle in the last 12 months, and not having given blood in the last 56 days.
In addition, donors must not have had cold symptoms within 24 hours or flu symptoms within 72 hours of giving blood, which has posed a problem for donating in January.
"Cold and flu season is hitting later this year," Storm said.
The economic climate affects blood centers, too.
"We've had a lot of layoffs, so businesses we would normally go to have cut back on employees, so we'd have fewer turn out," she said.
The number of surgical procedures this time of year also takes a toll on the supply.
"A lot of people hold off elective surgery until after the holidays," Storm said.
To deal with the shortage the center is trying to get the word out about already-scheduled mobile units, and it wants to have a Eudora summer drive, too.
"It's just more convenient for people if we go to their work or the church down the street," Storm said.
As a bonus, the Eudora Lions Club will have a drawing at the local drive for a two-night vacation package to Branson, Mo., with one show and $25 in gas from Texaco.
To expedite the process, donors should have identification ready, and they can make an appointment.
Storm emphasized one donation can save three lives if the blood's components are separated.
Moreover, unlike Red Cross donations, the center keeps the blood local. A Eudoran's donated blood will go to an area hospital he or she would likely go to, whether in Lawrence, or the Kansas City and surrounding areas. Moreover, the center can only collect blood from areas it serves.
"We have a limited area," Storm said. "We're really depe