A bird of a different feather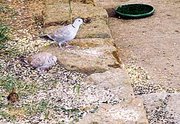 The less-conscientious observer would probably dismiss an unusual bird seen around town lately as something looking like a cross between a pigeon and a mourning dove. But local wildlife enthusiast Ron Nicholson did some research and discovered one of Eudora's newer residents is actually the Eurasian collared dove, a species originally from Asia first introduced to the Bahama Islands in the 1970s. Since then, the bird has made its way to points north, including Nicholson's home in north Eudora, where they showed up about mid-May.
"When I saw them I didn't know what they were," he said.
Some inquiries on the Internet answered Nicholson's question, showing the birds weren't all that much of a rarity anymore.
"They're around, but nobody ever says anything about it," he said.
Nicholson said the birds congregated in his front yard around a tree that also attracted other bird species and squirrels. The birds usually got what was left of the squirrel food, he said.
Nicholson describes the Eurasian collared doves as looking like mourning doves while on the ground but like pigeons while in flight.
"When they land, their tails are spread out, and it's just beautiful," he said. "They're just a beautiful bird."
An experienced outdoorsman and accomplished bow hunter, Nicholson employs a different method for capturing the doves -- through the lens. He's photographed the birds in his yard and e-mailed the photos on the Internet.
Getting the shot he wanted, though, sometimes required Nicholson to employ the use of bird seed to coax the birds into a better position. Yet he's never been able to get too close to the skittery species.
"I imagine they're often in the park (downtown)," he said. "I don't think (hunters) will get them, because they stay right here in the city."
Nicholson said his observances of the doves had piqued the interest of newspapers and universities. He recommends the Internet for more information about the birds, including a recording of their call, which can be found on www.internationaldovesociety.com/Calls.htm Nicholson said he was fortunate enough to have heard a live bird call just recently.
"I heard them cooing to each other," he said. "It sounded like a mourning dove, but a real course call. I'd never heard them call."