A taste of state leaves Cards hungry for more
Webb hoping to build on momentum of sub-state play during last year's stellar season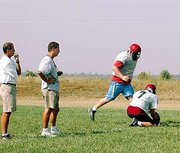 The Eudora Cardinal football team is close. It is close to wrapping up practice. It is close to opening Sept. 5 at home against Prairie View. And it's close to a state championship.
That mission began Aug. 18 with the team's first practice. According to head coach Gregg Webb, practice went well.
"Our experience over last year, knowing our plays and understanding our offense is light years ahead of where we were last year," he said.
And they will need to be. The Cards are looking to replace some very significant losses on the offensive side of the football.
They lost tailback Andrew Pyle -- a nominee for Kansas Male Athlete of the Year -- and a pair of all-state offensive guards.
The trio of running backs emerging from Pyle's shadows will have the benefit of another powerful offensive line that Webb feels is maturing rapidly.
"We're going to be big up front," Webb said. "Hopefully we'll be physical. When we meet some team that's going to punch us in the mouth, we'll find out how physical we're going to be."
There were a lot of questions last year too -- the biggest of which being whether the Cardinals would sustain their evolution under the leadership of a new coach. Those questions were quickly answered by a coach with five state championships under his belt.
His new team finished two games from giving him a sixth.
Even if the Cardinals would have given Webb his sixth title, he probably still wouldn't be satisfied.
"That's the thing about coaching," Webb said. "I've won five state championships, and every year I'm wondering if we should have done better. I wonder if we should have won the state championship 50-6.
"You're happy of course and ecstatic to win the game, but ultimately your job is to get more out of your team than they ever thought they were capable of."
Eudora still has some obstacles to overcome to call itself a champion, but the swagger is developing.
Eudora's first obstacle was defying the record-breaking heat that has greeted the start of the new season. The Cardinals had practices at 6 a.m. and 6 p.m. to beat the heat of the day. The team also spent extra time conditioning in the weight room.
"We had some days where it was miserable being out there," Webb said. "But the kids did great, and they all worked hard. I think they're excited. I'm excited about the year. We put in a great week. The heat didn't slow us down that much."
The heat is on for the team, too, in terms of expectations. After decades of disappointment, the Eudora program has emerged into a factor in 4A football.
Webb thought that pressure was a positive.
"It's a good thing," he said. "When we walk off the bus, people expect a quality product, and we're going to put a quality product out there. And the kids take pride being that product."
The pride circulating through the team and the community may be the single most significant piece of evidence that Eudora has indeed turned that corner.
"Last year getting to that sub-state game, having them sniff that success really helped us," Webb said. "When they go to the games and see that crowd screaming and hear people talking about them, they want to be a part of that."
More kids than ever want to be a part of it. Sixty-seven players went out for football this year. Last year's number was in the low 50s.
Webb thinks those 67 players represent great potential.
"We can be pretty good," he said. "How good? That's yet to be determined. When things happen bad, how does the team react? That's a great indication of how good you're going to be."
Webb credits last year's success to the team's ability to respond to those bad things.
"Last year we had some tough kids," he said. "You wanted those kids in a street fight. When things went wrong they got mad. They didn't pout or quit -- they just got mad."
Eudora will rely heavily on its senior class to establish that toughness this year.
"Our maturing as a senior leadership group will be a huge defining moment with this team and how far we're going to go," he said.
More like this story