In sickness and in health
Cardinals prove mettle with and without leader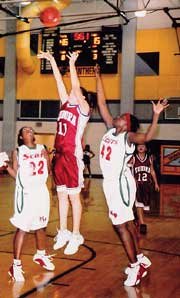 A 35-point outburst, an influenza outbreak and an outstanding run ushered in the new season for the Eudora girls basketball team.
It began Dec. 5 with senior Lauren Kracl's 35-point performance in a 60-47 win over Pleasant Ridge. Kracl celebrated by coming down with the flu.
So, Eudora traveled to Paola's Panther Invitational Girls Basketball Tournament without its leading scorer.
The Cards were manhandled Monday 57-23 by first-round opponent Highland Park. But Eudora bounced back with an impressive 53-36 victory over Turner the following night.
Lauren Kracl's illness may prove to be one of the best things that has ever happened to the team. Her absence forced her teammates into roles of assertion, confidence and leadership.
Eudora led by only a point, 8-7, at the end of the first quarter. But the Cards seemed to be in control of the contest. They missed their share of short-range opportunities, but there was an aggressiveness that had been grossly absent throughout much of recent memory.
Junior guard Kayla Moyer set the tone early. Her willingness to take the shot inspired a free-spirited effort by her teammates.
Sophomore Michelle Deluna and freshman Erin Kracl were especially effective. Each demonstrated a nose for the basketball coming up with key rebounds. Their hustle often lead to easy scoring opportunities. When the opportunities didn't present themselves, the two willingly put the ball on the court, penetrated and created their own opportunities.
The Cards as a team shot a very poor percentage but the squad's mentality and experience will score heavy dividends down the road.
"I think we all realized that we had to take our game up a notch without (Lauren Kracl) in the lineup," Erin Kracl said. "I think we did a good job of adjusting to playing without her. We wanted to come out a lot stronger and a lot harder and I think we pulled together as a team really well."
Eudora used a 19-11 second quarter to build a 27-18 halftime lead.
The Bears seemed content to attack solely from the outside, a strategy that failed Turner in the first half.
But the third quarter was a different story on both sides of the ball. The Cards briefly lost their edge, and the Bears' shots suddenly started falling. Turner rode the transformation to a 16-9 third quarter.
The Bears tied the game at 34 and then again at 36.
A line of suitors stepped up to audition for the vacated go-to role. Erin Kracl, Deluna and senior Jodi Wingebach hit a series of big shots closing out the game and the Bears 17-0 run.
The Cardinals 53-36 win helped soften the devastation of the Highland Park game.
"It's still in our heads. You never like to get beat that bad," Moyer said. "We were mismatched but we should have had a better game than that."
The Highland Park mismatch was visible early and often. Eudora amassed an astounding 21 first-half turnovers while managing just one field goal in the entire first half.
"Their smallest girl is about as big as our biggest girl -- we just got 'out-womaned,'" head coach Cara Kimberlin said. "We played just horrible in the first half."
The Cards did play a little better in the second half cutting their turnovers down to five. But the damage had been done.
"We were just so outsized," Kimberlin said. "(Lauren Kracl's) impressive, but you can only do so much. You have to have your supporting cast playing well."
Lauren Kracl is indeed impressive. The senior standout was in mid-season form in the opener against Pleasant Ridge. Her dominance helped Eudora build a 48-26 lead after three quarters.
"I can't score without my team's good passes," the senior said. "I was on tonight. Someone else will be on another night. That is what's good about our team, if one person's off than another person's there to fill that spot."
The Rams finished with a 21-12 final period but the game was already out of reach.
"I was pleased with our first half effort but I wasn't real pleased with our second half effort," Kimberlin said. "I think we just kind of set back on our heels. We stopped being aggressive and our defense was horrendous in that fourth quarter."
Eudora (2-1) faces host Paola at 5:30 Friday in the fifth-place game of the tournament.