Statistical achievement
Stein coaches his way through 400 wins in 30 years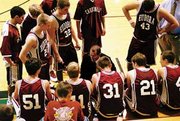 Adam Hooker
The Eudora News
Thirty years, 400 wins, three trips to the sate finals and one state championship. That's the resume of Eudora head basketball coach Scott Stein.
The Cardinal coach's Dec. 19 victory at Prairie View earned him the monumental 400-wins milestone -- an achievement that speaks volumes for Stein's talent, tenacity and toughness.
Few could survive the coaching profession for three decades. Even fewer could accumulate 400 wins along the way.
Not to diminish the sate championship in 1992, but the coach is prouder of his endurance.
"It was a real thrill when the (state championship) happened," Stein said. "But the biggest thrill is just the longevity of it. I was more emotional with the win at Prairie View than I've ever been before; the fact that I've seen so many coaches get in the business and get out after about 10 years. I'm coaching against guys my kid's age. I can't really explain it, there's just something about the longevity of it all."
Stein's coaching journey began as a varsity assistant in 1973 at St. John's College in Winfield.
A year later in 1974, he earned his first head coaching position in Lacrosse. By 1980, he had his team playing for a state championship.
Stein had hoped his success at Lacrosse would lead to a head coaching position at a division-one college. But he entered the profession at time of philosophical change.
"When I first started coaching things changed dramatically," he said. "Kids would play in college and then stay on as graduate assistants. I was breaking in and having success at the high school level, but it wasn't enough.
"But I did have enough success and a made enough money that I changed my goal to being the best high school coach that I could be."
Stein's accomplishments and new goal opened an opportunity in Abilene, a tenure that lasted 15 years, from 1980-1995. Stein's run in the fabled cow town produced two state championship appearances, winning it all in 1992.
Three years in Neodesha, two more in Wyandotte and a brief one-year stint at Shawnee Mission East followed. And then in 2001 the growing legend that is coach Stein landed in Eudora.
The key to Stein's success and longevity is simple.
"It's just something I like to do," he said. "I like to work with young people and see them respond. It's a great feeling when you see them sacrifice and do the right thing. It makes it fun for me."
It is a rare thing to hear a man refer to his work as fun, but that's exactly what it is for Stein.
"Work is play for me," he said. "I've never seen the late nights or long hours as detrimental aspects of my job. It really is fun.
"The definition of fun to me is that you have accomplished a team goal."
And that's what it's all about for Stein: bringing together a group of individuals and creating a team.
"I always try to get my teams to play hard with a significant amount of intensity and to play hard as aeam, working together for a common cause," he said. "It's getting tougher to get five to 12 guys to work together and sacrifice for that common cause. But that's what it takes to win.
"That it is better to give than receive is a tough, tough thing to teach. But my style is that you can't compromise."
That uncompromising style is a positive factor at the heart of Stein's success. But it is also a trait that is commonly misunderstood.
Stein's sideline persona is intense and animated. He can comes across as gruff and unapproachable. But beyond all of that is a passionate teacher with a deep regard for student-athletes.
That passion can be a double-edged sword though.
"The hardest thing for me in this business is telling a kid he or she can't play," Stein said. "Cut-day over the years has been the worst day for me. I am very empathetic, but it is usually what's best for the kids."
Caring doesn't make it easy but it makes it all worth while.
And through the highs and lows, Stein remains committed to his profession -- to this year's exciting young team and beyond.
"Right now, I plan on continuing what I'm doing," he said. "I have no plans at the moment other than coaching. I could retire after next year, but I still enjoy coaching."