Pitt boss
9-year-old Pittman rules both diamonds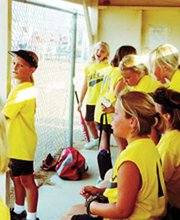 Chloe Pittman has been a woman among boys. The 9-year-old multi-sport sensation has taken Eudora by the heartstrings.
The soon to be fourth-grader has separated herself from her peers in more ways than one. The unpretentious young star-in-the-making made the baseball and softball diamonds of Eudora her own personal playgrounds during both seasons.
Chloe has always been ahead of the curve in her athletic gifts. At times, her advanced skill level has been both a blessing and a curse.
"She comes by it naturally," said her mother, Melissa Pittman. "She has a really good sense of how to play out there."
This season marked her first year in baseball when the players pitched. In softball, the coaches still control that responsibility at her age level. In any case, she loves to play.
"You just go out there and you can do whatever you want really," Chloe said. "I like playing the pitcher's position, because that's where most of the balls go."
Chloe has maintained humility despite the spotlight. She doesn't desire to be the center of attention, but she does enjoy being in the middle of the action.
She began playing T-ball in kindergarten, just a few years ago. It became clear at an early age that Chloe was a natural. She quickly outpaced the majority of her girlfriends.
But not everything was easy for Chloe during her T-ball year. Her dad was in the midst of a losing battle with cancer. Kip Pittman died in September 2000 before seeing her ever play baseball.
Chloe has been able to draw strength from her mother, her brother, Zane, and her sisters, Hannah and Sadie.
When she was ready to graduate from T-ball, a decision had to be made: Should she try softball, where she might struggle to be challenged by her peers? Or should she attempt to play baseball, where she would be challenged on the field athletically and socially?
In the end, the Pittmans chose baseball. And as has been the trend with this 9-year-old, she met the challenge.
"She's very smart, very personable, very bright and kind-hearted," said former assistant coach Deborah Becker. "She was fun to have on the team, one of my favorite kids. She had a big case of the giggles."
Oh, and she can play pretty well too.
"She has a consistently great bat, and she played third for us," Becker added. "She's a tough third baseman and had a couple of hot-box situations. She tried pitching this year, too, and did pretty good for a kid just learning."
Deborah's husband, Mike, was Chloe's head coach for two years.
"Every year when Mike would go to draft players he would try to get Chloe," Deborah Becker said. "There was no one in her age group as good as she was."
That fact makes Chloe remarkable but not necessarily happy. In Chloe's inaugural baseball season she played alongside one of her girlfriends. Despite the companionship of her other teammates, her relationship with another girl proved critical in providing a more relaxed atmosphere.
This year, however, she was the only girl on the team. The lack in a companion may prove to be the end of Chloe's baseball career. She intends to focus on softball in the future where she can play with her friends.
"Last year I felt more comfortable," Chloe said. "It was coach-pitch, and I had a girlfriend on the team.
"This year there were more boys. I felt weird. It's fun to be with your friends."
Therefore softball has become Chloe's sport of choice, securing her future consideration and concentration.
Her mother believes it's that concentration that sets her daughter apart.
"It's her mentality," Melissa Pittman said. "Physically she can do all things. Mentally she knows exactly what to do on every play."
She is growing into that age where even more choices become available. She is set to tackle her second year in basketball this fall. Chloe returned from a basketball camp in Eudora with seven awards.
She has also expressed interest in volleyball -- a sport that is not yet available to her at this age but has sparked intrigue through another summer camp.
No matter what sport Chloe ultimately chooses, her goal remains the same.
"I just want to have fun and get out there," she said.