It's tea time in Eudora again with new shop downtown
Madame Hatter's wants to mix fun, formality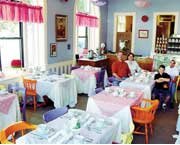 Madame Hatter's isn't your grandmother's uptight tea room. With bright, Technicolor chairs and walls, pastel umbrellas dangling from the ceiling, and a dress-up room stocked with feather boas and old-fashioned hats, Eudora's newest restaurant is perhaps more like your daughter's seventh birthday party.
And that's just how owners Lauren and Thomas Smith envisioned it.
"A lot of tea rooms are really stuffy," Thomas Smith said. "We want to have a tongue-in-cheek look."
That includes a room -- once was a vault at the old bank building on Seventh and Main streets -- stocked with hats and feather boas, which the Smiths hope customers will feel inclined to try on during visits.
The couple have lined the walls with vintage dresses and clothing accessories, along with what they call their recently acquired ancestors -- old-time photographs picked up at antique stores.
Dangling from the ceiling near the lavender walls are bright, colorful umbrellas, Lauren's idea Thomas wasn't too sure about at first.
"I brought home 15 umbrellas, and he looked at me like, 'You're crazy,'" Lauren said.
Thomas joked, "I started questioning it, and then I remembered -- I'm a guy."
The couple said their young daughter was their inspiration for the Easter-egg colors and whimsical decorating style.
"She's inspired the girly-girl in me," Lauren said. "We're discovering our inner femininity."
The Smiths are banking on the idea that women will want to come experience old-school formality with a fun, ironic twist in a tea room with a "Victorian dollhouse" look that plays music of the 1940s.
"Everybody likes to dress up, and this is a fun way to do it in the old style like they used to," Lauren Smith said.
Thomas Smith said the by-reservation evening hours would cater to women's groups, church organizations and sororities, as well as events like bridal showers, thereby giving women a place to hang their hat.
"Guys hang out at the bars with cigars and whatnot," he said.
Madame Hatter's offers a variety of Canadian and English teas as well as the American standby Lipton. The menu changes each day for lunch but offers a sandwich, salad, side dish and dessert. The tea room also uses and offers locally made meats, jams and jellies. It may not be the most economical decision, Thomas Smith conceded, but it was an investment in the community, whose downtown he hoped to see prosper with more businesses opening up.
"Once people have come to Eudora, hopefully they'll take a few minutes (to look around), and hopefully turn this into day trips," he said. "If we can draw people in from out of town, that will help Main Street."
Originally the couple wanted to open a store that would create gift baskets, but Lauren Smith had another idea with the tea room. Her husband said the final product was pretty much to how she'd described her vision in about 30 minutes.
Although Madame Hatter's just made its debut Friday, the Smiths have been in the 702 Main Street building for about a year, where they've run Aspire Marketing, a business that started several years ago out of their Linwood area home. Aspire provides marketing information to real estate agents, mortgage brokers, homebuyers and anyone else involved in purchasing a home about Ameridream Inc., a down payment gift program that assists low- to moderate-income homebuyers.
"It's one of those jobs you get to look at yourself in the mirror and you're proud of what you do," Thomas Smith said. "There's always going to be someone living in an apartment who wants to buy a home."
While the Smiths have run Aspire Marketing out of the back of the building, the couple prepared the front of the store for the new tea room. Thomas Smith said they would invite curious downtown shoppers in to take a peek at how the building was being transformed.
"Once they see it," he said, "they'll come back."