Big Time
Students performing musical version of 1980s classic comedy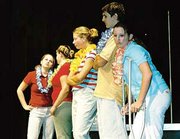 The essence of change, both on the stage and behind the scenes, is alive in Eudora High School's musical presentation of "Big" -- its new show running Nov. 13 and 15 at Eudora Middle School.
The show is a musical adaptation of the classic 1988 movie starring Tom Hanks as a small 12-year-old boy who makes a wish to become big. An enchanted carnival machine grants the character's wish. The story line develops as the young man adjusts to the alien world of adulthood. Hanks' character, Josh Baskin, brings out the child in those around him while learning to appreciate the child in himself.
Such is the plot on the stage, but behind the scenes there is an important transition as well. For the past five years Jeannine Sample has acted as the school's drama director. She is now ready to turn the reigns of the program over to her younger proteges, Heather Lawrence (drama director) and Angela Yarnell (musical director).
Sample has chosen "Big" as the curtain call on her career.
"It's a show that I've always wanted to do," she said. "It's a tough show for high school kids. But I tell the kids that I'm not going to do shows at a high school level. I refuse to believe that's all they can give me."
A strength is that of the leads -- junior Kevin Abel who plays Baskin and sophomore Amanda Gordon who plays Baskins' adult love interest Susan Lawrence.
"Mrs. Sample says she thinks this could be one of the best plays that she's done and she thinks there's a lot of talent in the cast...I agree," Gordon said. "A lot of people try to grow up too fast, and I think the play will show them that you don't want to yet. That you should enjoy being a kid while you can and that even grownups should have a child inside of them. They should still have fun."
Those involved in the production hope its fun for the audience, too.
"The reason that the show's so much fun is because it's about kids and the things they go through as they're wanting to be older," Yarnell said. "There's a lot of dance numbers and there's a lot of singing. I think the community will really appreciate it and enjoy it."
It's not just a bunch of fun for the actors though. There a great dedication and commitment that goes into making a dramatic production.
Lawrence believes that dedication and commitment will do more than help develop a great play -- it will help develop the actors themselves.
"They realize what it's like to work hard and want to work hard to do well," she said. "It's just an experience working with people and having to face adversity. Like any athletic team or organization, if your name's attached to it, you want it to do well."
The greatest burden of success gravitates to the leads.
"I've had to make quite a few sacrifices in order to get all the lines down and everything," Abel said. "I put a lot of hours into my shows. I want it to be the best that I can make it. All in all it's a big sacrifice, but if you're really interested in doing something like this it's worth it."
Now, it's just a matter of getting the community interested in it. Bringing a movie to three-dimensional life has its advantages and its disadvantages. The audience is likely to have a working knowledge of the story and can enjoy reliving the experience. But the cast also faces the difficulty of living up to the viewers' expectations.
Eudora presents "Big" in a slightly different light though -- as a musical. The new twist gives the encounter a first-time feel.
"Our challenge has been trying to keep the similarities the audience is expecting, like the piano scene, and then surprise them with the new musical numbers," Yarnell said. "I think the music really tells the story better in a lot of ways than the movie did."