New kid on the tackling blocks
Lauer transitions to position with Cardinals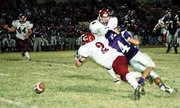 From new kid to homecoming king and football commodity in a little more than a year -- that is the journey of Eudora senior Josh Lauer.
Perhaps the most important thing for the transfer student was that he never really felt like the "new kid." Lauer chose Eudora over the familiar comforts of home, and the town embraced him for it.
His father, Jim Lauer, moved to Eudora during Josh's sophomore year at Nemaha Valley High School in Seneca. He visited his father often and developed a friendship with former Cardinal player Dustin Moyer. It wasn't long before the gifted student-athlete entertained strong considerations to join his father in Eudora.
"I visited for a while and I really liked the area," Lauer said. "Everyone was really nice and accepting. They made me feel like I'd been here my whole life."
Eventually he pulled the trigger on the move and joined his father in Eudora.
"It was completely my decision," he said. "When I finally decided to move I was more excited than I had been in a long time."
The transition to a new school is rarely an easy one, but for Lauer the transition seemed unusually smooth.
"All the guys made it real easy to adapt," Lauer said. "The town took to me a lot faster than I thought."
Lauer's acceptance into the school's social scene was aided by his athletic attributes. Students possessing ample aptitude in baseball, football and basketball are often granted extra avenues toward acceptance.
The first road Lauer took was to the baseball diamond.
To meet new people faster, his father convinced him to join Eudora's junior varsity baseball team as a junior. Lauer had played Legion ball in Seneca because Nemaha Valley didn't offer a baseball program.
Lauer hit .276 and led the team with eight RBIs.
With entry into the athletic department, Lauer was exposed to the whole of the Cardinal coaching staff. It wasn't long before head football coach Gregg Webb took an interest in the talented transfer.
Webb invited Lauer to a camp at Fort Hays State University. The trip provided Webb with a testing ground for his new weapon.
Lauer passed the test, but Webb still was unsure where to put him. To some extent, that question remained until the end of the season.
There were concerns about the durability of the Cardinals' tailbacks, so Lauer spent time there. Despite the depth of the returning wide receiver, Lauer lined up there. And when starting quarterback Tyler Cleveland lost considerable time to a fractured collarbone, Lauer took some snaps too.
The one place he did find a consistent home was at the starting cornerback's position.
"There were a lot of question marks about himcoming into a new system -- especially in his senior year -- and contributing," Webb said. "But although he didn't get a lot of consistency at any position, he did pretty well at all of them."
Lauer epitomized the value of a role player willing to take on any responsibility necessary to help his team.
"We were a better football team because we had him," Webb said. "He has a nice head on his shoulders, and he understands the game. He was a kid we could really count on. He was good for the program and loyal to the program."
The loyalty the town had for the program is something that really stood out to Lauer.
"They're crazy about their sports here," he said. "I came from a smaller 3A town that didn't take to the sports teams like they do here. You can tell Eudora really cares about academics and athletics."
If the move from Seneca to Eudora wasn't interesting enough for Lauer, he now gets to move from coach Webb to coach Scott Stein with the basketball team.
The team began practice Nov. 17.
"I think personally my basketball season has started off excellent, and it can only get better from here," Lauer said. "I think coach Stein has total confidence in me. The only time he yells at me is when I'm not shooting. I'm really excited about the season, and I'm ready to get it underway."
The Cards are looking for a shooter to replace graduated go-to guy Kaleb Niedens.
Lauer has credited both Webb and Stein for making him a better athlete, and he credits athletics in general for making him a better student.
"It's definitely a privilege to play for this school," he said. "It makes me work harder academically and it helps keep me in line as a person."
More like this story