DIRTY
WORK
Can you dig it?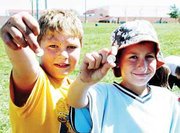 Employing a variety of garden tools and brushes, a class of fifth-graders scavenged a mound of dirt in search of buried treasure. But this was no game, and in some cases the "treasure" was a wooden spoon.
The West Elementary School fifth-grade classes wrapped up a unit about Native Americans with an archaeology dig last Thursday on the school grounds near Winchester Road. Construction on the new road made it an opportune time, said teacher Tempest Stein. She and the other fifth-grade teachers buried items representing different eras in civilization in a mound of dirt that road construction workers were happy to create.
Adding to the authenticity, the area was gridded off, and students were asked to document their findings in words and pictures. The idea, Stein said, was that each class could take its artifacts and discuss what they meant to the culture or how they might have been used. But apparel was also important, she said.
"I suggested if they had miner's hats or Indiana Jones hats or aprons to bring them," Stein said.
A few students had special equipment, or at the very least their grubby clothes, like Jessica Gillihan, who had her lap buried in dirt, or Chase Coleman, who wore sweatpants to shovel away dirt with his archaeology partner, Tyler Crowe. Although she came outfitted in a ballcap and flannel shirt, Daigen Shepley said she dressed up for something going on later that day.
"I shouldn't have worn a skirt, though," she said as she and her partner, Jenny Bergman, struggled to find artifacts in their grid.
"I wish we had a metal detector," Shepley said. "That would make it easier -- a lot easier."
Early on, the pair hadn't found much more than a big "muddy thing," but around them in other grids students were finding dinner plates, glass beads, which the students called "dragon's tears," and parts of what had been a whole basket, Stein said, before the students hacked away at the dirt pile.
Shepley and Bergman said the fifth-grade classes were treating the artifacts as though they belonged to a civilization that left them behind. As pretend archaeologists, they said it was up to the students to figure out how the civilization might have used them.
As they dug, the students employed different methods of removing the dirt, some more delicate than others. John Samrow was one who brought a metal detector to help with the dig. It's a machine he's familiar with, he said.
"Sometimes I go out," he said. "I've found some nails."
The goal the fifth-grade teachers had for the project, Stein said, wasn't to have the students master a skill, rather the archaeology project was a fun diversion during their unit about Native Americans.
"This will be the best day of fifth grade -- just digging in the dirt," she said.