'

A natural step'
Students of all ages getting in step with local dance classes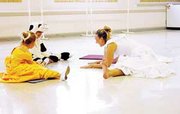 A room once reverberating with the cacophony of chattering students and clanging silverware was somewhat quieter Saturday morning.
Instead, the friction of feet on the floor and swishing of skirts filled the old Eudora Middle School cafeteria downtown as young dance students learned the basics in one of several dance classes now offered by Open Call Dance Company through the Eudora Parks and Recreation Department.
The class looked a little different Saturday, as students were dressed for Halloween. Offering dance classes to both children and adults filled a gap in Eudora, said instructor Jessica Vogt.
"I thought it would be something the community needs," she said.
On Thursdays and Saturdays, Vogt offers ballet, tap, modern and jazz classes, as well as pre-ballet and creative movement for the youngest students.
Most of the dancers now are first-timers, but Vogt said as the program grew she hoped to draw dancers who now leave Eudora for lessons.
"I'm hoping to get more students from other places," she said. "I'm hoping to get more people in January in our second semester."
The classes began earlier this month, and enrollment for next semester will begin in December, Vogt said. It was she who approached the city's recreation department about offering dance classes in addition to the sports programs the department has long offered.
"I approached them because I had recently moved to the town and realized there wasn't dance offered," said Vogt, who earned a degree in dance. "I'd taught for years and years. It's just a natural step."
More like this story