Eudora stomps Buffaloes
Cardinals pull out 20-13 win in opener against Prairie View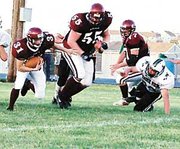 Eudora football fans waited 291 days to watch their beloved Cardinals play again.
Eudora began its season Friday night in front of a large and eager crowd at Laws Field, where the Cards defeated the Buffaloes of Prairie View 20-13 in a difficult and possibly costly contest.
Eudora began the day shorthanded. The team was without junior Jason Hamlin, its starting right tackle. Hamlin got word before the game that his parents were in a motorcycle accident. (Their injuries were not life-threatening).
Starting right guard junior Joe Faulk had expected to play, despite the cast on his sprained thumb. But the team was notified that he would not be allowed to play without a physician's release.
Senior Josh Brouhard, a starting safety and wide receiver, was suspended from the first half play for a violation of team rules.
And then it happened. Senior quarterback Tyler Cleveland on his first rushing attempt of the season was lost to a broken collarbone.
"It doesn't look good," head coach Gregg Webb said. "I'm sure he's out for a considerable amount of time. He's the one kid we could not afford to lose because he had grasped what we were trying to do and he could get everybody where they needed to be. He's a tough kid, a great competitor, and the kids really look up to him."
So the reins were handed over to senior transfer Josh Lauer (4-7-1 100).
"They told me from the beginning of the year to just be ready for anything," Lauer said. "We didn't play up to par, but not many things went our way. I think we grouped together and sucked it up really well."
Lauer led his team down the field to an opening-drive touchdown. Junior running back Brendan Jackson (nine rushes for 38 yards) took it in from five yards out, giving Eudora an early lead 7-0.
Eudora extended its lead to 14-0 when Lauer found senior wide-out Joey Donahue (three receptions for 77 yards) on a 31-yard touchdown pass.
Prairie View received the ball on downs two possessions later at the Eudora 34-yard line with 2:46 to play. The Buffaloes senior quarterback Scott Stoughton (eight for 22 passing for 96 yards) connected with senior wide receiver Tommy Capp (two receptions for 72 yards) on a quick slant over the middle. Capp turned the short completion into a 66-yard touchdown, cutting the Cardinal lead in half at 14-7.
"(Prairie View) got some momentum before halftime," Webb said. "They had one first down the whole first half, and we go into the locker room with our heads down, and their heads are up."
Prairie View went three-and-out in each of its first two possessions of the second half. But Eudora cut them a break on the Cards' second possession. Late in the third quarter, senior running back Mark Lister (13 carries for 85 yards) fumbled at the Eudora 33-yard line.
The Buffaloes then drove down the short field for a touchdown.
Prairie View lined up for an extra point, tying the game at 14, but Eudora senior Chris Gabriel came up with a spectacular block that preserved the Cardinal lead.
"That was huge," Webb said. "If they tie the game right there who knows what would have happened."
With less than 10 minutes to play in the game, Eudora attempted to convert a fourth-and-three at the Prairie View 47. But the Cards were stopped for no gain. Prairie View took over with great field position.
The momentum seemed to be returning to the Buffs' side, but Gabriel's second sack of the game and a sensational open-field tackle by senior defensive back Troy Van Horn ended the Prairie View drive.
On their next possession, the Cardinals drove the ball 67-yards, resulting in the game's final touchdown. The drive was highlighted by a 26-yard run by Brouhard (1-26) on third-and-10 and capped-off by sophomore Luke Abel's (11 carries for 21 yards) three-yard touchdown run.
Prairie View had one last opportunity with just under a minute to play, but a Brouhard interception at the Eudora 32 sealed the victory.
"We were not very good," Webb said in summation. "I thought we were a lot further along than we were last year, but I'm not so sure right now."
The next test for the Cards comes on the road Friday versus Anderson County (1-0) in Garnett. Kickoff is scheduled for 7 p.m.